"Press Tour" tales: Duffy and Gray will soon be back to keep Dallas flame burning
08/23/13 01:36 PM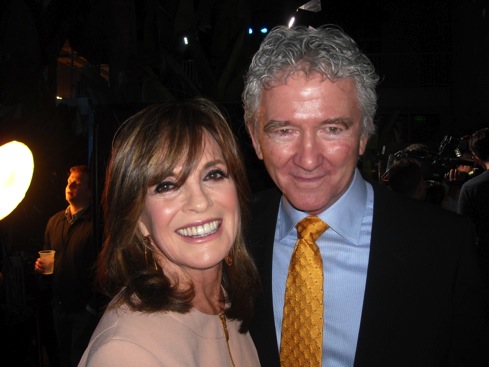 Dallas stalwarts Linda Gray, Patrick Duffy at TNT party. Photos: Ed Bark
By ED BARK
@unclebarkycom
BEVERLY HILLS, CA -- Their stay will be longer than ever, but only after the wilting summer sun has gone on vacation.
Led by charter surviving cast members Patrick Duffy and Linda Gray, TNT's
Dallas
returns to Dallas in early October for a planned six-month shooting schedule that one-ups the previous year's by a month, according to Duffy.
"It's good for both my economy and Dallas's economy," he says during an interview at TNT's poolside 25th anniversary party.
The cast of
Dallas
is out in force, a mix of the good, the bad and the in-between. But Duffy and Gray are now the preeminent torch-bearers after Larry Hagman's death in Dallas during filming last November. All three were there at the creation when
Dallas
premiered on April 2, 1978. Initially a limited-run spring tryout series, the CBS original ran all the way until 1991.
In its formative seasons, the cast would endure Dallas' hottest months of the year for several months of location shooting. No more. And that was a demand, not a request, when TNT decided to resurrect prime-time's all-time most successful serial drama with a 10-episode Season 1 that TNT launched on June 13, 2012.
"When we all signed on again, the producers invited us to dinner, the three of us," Gray says. "They said, 'When would you like to shoot in Dallas?' In unison, we went, 'October.' We paid our dues. So now the kids are benefiting. They don't have to experience that heat."
Initially strong ratings prompted TNT to quickly renew
Dallas
for a Season 2 while also upping the episode order to 15. But Hagman's death, coupled with a significant ratings sag for the episodes that had already aired, made a Season 3 doubly iffy. The show's head producers, Cynthia Cidre and Michael M. Robin, were forced to hastily re-imagine a
Dallas
without J.R.Ewing.
"That was the thing that worried me the most," says Duffy, who plays J.R.'s virtuous brother Bobby. "But literally in a week they restructured the season. At that point I realized it no longer was going to be a question of how the show would do without Larry. It would just be a question of 'Will the audience buy it?' "
The 2.99 million viewers for the Season 2 finale were down considerably from the 4.29 million for Season 1's closer. But the second season premiere had a virtually identical 2.98 million viewers, meaning that
Dallas
at least had held firm during the course of constructing a mystery around J.R.'s shooting death. In the end, his demise had a twist, of course.
"I knew him probably better than almost anybody. And Larry would have been thrilled at how it was handled," Duffy says. "The dignity with which it was handled. The way they sent him out in the final episode. It was, unfortunately, the most brilliant piece of catch-up plotting that I've ever seen on television."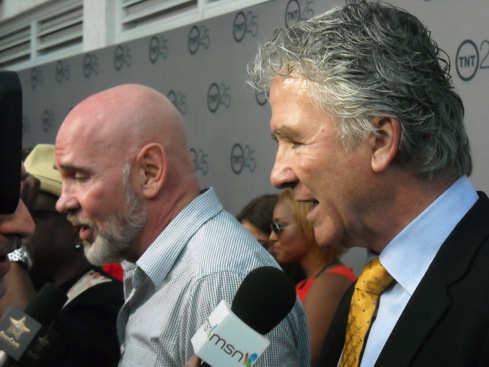 Side by side on the red carpet: Duffy and Mitch Pileggi, the actor who plays Bobby Ewing's arch nemesis, Harris Ryland, on TNT's Dallas.
Duffy and Gray last saw Hagman in a Dallas hospital on the day before he died at age 81 of complications from leukemia.
"It wasn't a shock," Gray says of Hagman's death. "We knew it was coming. "We spent our time together telling stories, giggling, laughing, having just a great time. He was fabulous. Nothing was out of the ordinary. Then after two hours he said, 'Get out, get out. I want to take a nap.' "
Gray, who plays J.R.'s ex-wife, Sue Ellen, had perhaps her signature
Dallas
scene during a graveside episode sub-titled "J.R.'s Masterpiece." She movingly read a letter that her old antagonist left behind for her. J.R. and Sue Ellen had pretty much settled their differences -- for a few episodes at least -- before Hagman took the character to the grave with him.
'Yes, it was hard," Gray says of filming her character's impromptu, heartfelt eulogy. "But it was also a gift, that I was given those words to say about my friend of 35 years. It was a way for the audience around the world to be at Larry Hagman's funeral and at J.R.'s funeral. And I could sort of be the speaker for the world, and say goodbye."
Gray and Duffy already have their appointed condos for the six-month shoot in Dallas, with a brief break for Christmas factored in. Gray takes her cat with her and Skypes with her two grandchildren. Both regularly fly back to the West Coast on weekends.
Hagman's death will make filming a little less merrier. He was always a notorious practical joker, often in league with Duffy. But the show's writers no doubt will reference J.R. throughout a 15-episode Season 3, which is scheduled to premiere early next year. Foul deeds from the distant past are seldom without his stamp.
"His presence will always be there," Gray says, speaking of both Hagman and his inimitable character. "I know he's gone. But he's with us."
Email comments or questions to:
unclebarky@verizon.net