"Press tour" tales: Cuban does his red carpet thing
08/20/13 10:21 AM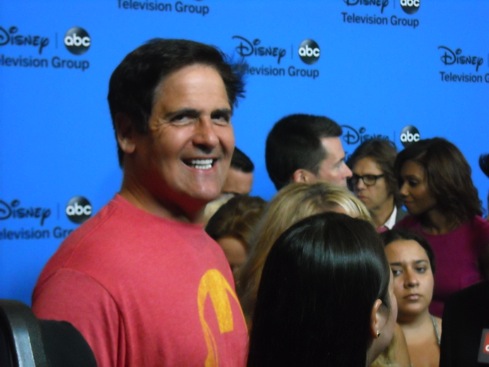 Mark Cuban now seems at home on the red carpet. Photos: Ed Bark
By ED BARK
@unclebarkycom
BEVERLY HILLS, CA -- Fresh from a family vacation and dressed for success in an Ironman t shirt from his three-year-old son, Mark Cuban is no longer a stranger in a strange land of ABC prime-time stars.
Nine summers ago he gingerly walked the red carpet on behalf of
The Benefactor
, ABC's short-lived knockoff of
The Apprentice
in which Cuban eventually doled out $1 million of the network's hard-earned cash to a disease intervention specialist and aspiring model. He looked notably ill at ease on camera and also had to pretend being an almost fanatical devotee of the game Jenga, which Cuban later acknowledged he'd never played before.
It's much different now. ABC's All-Star party on an early August night is held the day after
Shark Tank
was named the year's best "reality" program by the Television Critics Association. On the following day, ABC announced a six-night
Shark Tank Week
(Sept. 8-13) in which each of the judges picks a personal favorite from the series, which also is nominated for an Emmy award. The show's Season 5 premiere is scheduled for Friday, Sept. 20th.
"Yeah, a whole week of
Shark Tank
," Cuban enthuses after walking ABC's red carpet and then hitting the network's party. "That says a lot about the show when ABC is willing to give all that real estate up in prime-time."
Cuban is now entrenched as one of the six Sharks after earlier guest appearances. He's so far invested in 20-some startup companies, with Siiple Sugar Scrubs ($100,000 for 33 percent of the company); KissTixx lip balm ($200 grand for 40 percent) and ShotGun Shell Bobbers ($80 grand for 33 percent) among the best performers, Cuban says. "I've only had one fail and I've had one that's marginal."
A profit picture has yet to materialize, though. "If they're growing, I don't want to take money out," he says.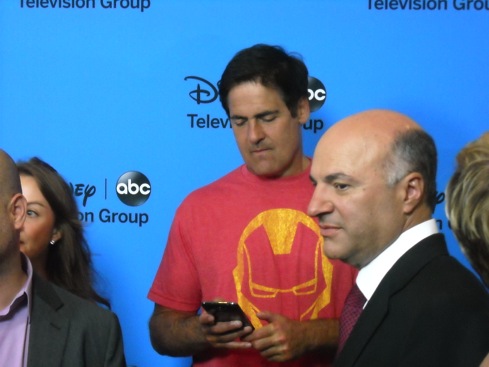 Still gotta check those cell phone messages, with Shark Tank colleague Kevin O'Leary in the foreground on ABC's red carpet.
The 55-year-old Dallas Mavericks owner and married father of three children came to prominence as an oft-fined NBA executive after buying the team in January of 2000. Now his Hollywood gamesmanship increasingly takes up more time, whether it's tapings of
Shark Tank
, management of Magnolia Pictures and Landmark Theatres or his partnership with Ryan Seacrest and CBS among others in AXS TV.
The latter cable/satellite channel was rebranded from HDNet in July of last year. Cuban birthed HDNet in 2001, when high-definition was in its infancy. He thought that rival networks would be very slow to catch up -- if they ever did. But that was a miscalculation. Or as Cuban bluntly puts it at the ABC party, "Yeah, I f*cked up. When everybody was saying they had all these high-def channels, they weren't really in high-def at the time. But it came sooner than I expected. I was wrong. So we had to adjust."
He subsequently envisioned HDNet "evolving into an HBO" with high-profile movies and original series. "But I kind of milked it too long."
Dan Rather, whose weekly news magazine series has been a part of HDNet since Day One, is still on the AXS payroll, Cuban says. "But we have him doing some new things. Right now he's interviewing some icons of music."
The companion HDNet Movies remains successful and in his long-term plans, Cuban says. On carriers such as DISH, where it's on Channel 131 next to AMC, "we kill 'em," he says. Still, "we might re-brand."
The ubiquitous Seacrest's contracts with other networks prohibit him from being an on-camera personality with AXS. But Seacrest can and has used his Los Angeles radio show to promote AXS's
World's Greatest Tribute Band
series, which airs live on Monday nights from L.A.'s Roxy Theatre.
The more recent AXS partnership with CBS is just starting to kick in, Cuban says. Their first significant collaboration will be for January's Grammy Awards on CBS, with AXS planning to offer a week's worth of "complementary programming" leading up to the ceremony. "One step at a time," Cuban says of the synergy with CBS. "We've gotta do what we realistically can do. Can't bite off too much."
AXS otherwise is developing a classic rock series and a "behind the scenes" music show hosted by Carson Daly while also talking with
Billboard
and
Rolling Stone
magazine about other projects.
"And we'll just keep cranking out concerts. Because there's nobody doing them at all," Cuban says, noting that May's three-day presentation of New Orleans' annual Jazz Fest hit the one million viewer mark for the first time on the still fledgling AXS.
The rebuilding Mavericks, who failed to make the NBA playoffs last season for the first time in 12 years, are still a front burner property, Cuban says. "The end of June through July is 100 percent Mavericks. The trade deadline is 100 percent Mavericks. The rest is up to (president of basketball operations) Donnie Nelson, the team and the coach. I'll do what I can to be there and support them."
But as Mavericks training camp nears, new season tapings for
Shark Tank
also are on the horizon. They resume in September. And Cuban once again will be all in.
Email comments or questions to:
unclebarky@verizon.net