Local Nielsen ratings snapshot (Fri.-Sun., April 15-17 -- Mavs come alive on this scoreboard, too
04/18/11 10:54 AM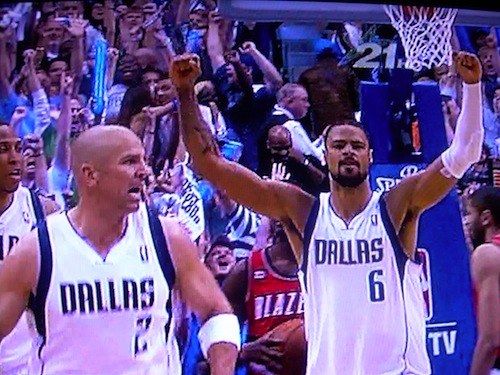 Jason Kidd hits 6th 3-pointer to snuff out Blazers. Photo: Ed Bark
By ED BARK
The Dallas Mavericks' Game 1 post-season win against Portland also gave the team its biggest audience this season on two outlets.
Starting closer to 9 p.m. than the scheduled 8:30 p.m. tip-off and ending at 11:13 p.m. Saturday, the big TV turnout also should give owner Mark Cuban renewed pause to consider whether he in fact "freshened" the homegrown telecasts by dumping longtime analyst Bob Ortegel. That's because the audience for ESPN's presentation was considerably larger than that for TXA21's.
ESPN averaged 228,548 D-FW viewers despite the presence of lesser known announcers Dave Pasch and Doris Burke. TXA21, with a home game combo of Mark Followill and Derek Harper, had 166,217 viewers.
That's a grand total of 394,765 viewers for Mavs-Blazers, with both outlets drawing their peak audiences in the closing minutes of the game. ESPN had 283,954 viewers in the 11 to 11:15 increment while TXA21 drew 228,548.
Sunday night's nationally televised Texas Rangers-New York Yankees game, which ended with another one-run road loss for the North Texas Nine, averaged a robust 367,062 viewers to almost equal the Mavericks' opening playoff win. Friday night's Rangers victory over the Yanks drew 180,068 viewers on TXA21 while Saturday's afternoon loss to New York had a comparatively meager 124,663 viewers. All three games won their time slots locally, though, against a mix of competing broadcast and cable network attractions.
On a fictional sports front, the start of Austin-made
Friday Night Lights'
final season on NBC had surprisingly sub-dismal ratings locally. Airing at 7 p.m. Friday, it drew 55,406 viewers to run sixth behind Rangers-Yankees, CBS'
Chaos
, Fox's
Kitchen Nightmares
, The CW's
Smallville
and ABC's
Shark Tank
. Among advertiser-coveted 18-to-49-year-olds,
FNL
inched up a rung to fifth place, beating only
Shark Tank
.
Excluding Rangers-Yankees, Sunday's prime-time Big 4 broadcast network Nielsens were led from 6 to 9 p.m. in total viewers by CBS' lineup of
60 Minutes, The Amazing Race
and
Undercover Boss
. ABC's
Brothers & Sisters
then edged CBS'
CSI: Miami
at 9 p.m. It was a checkerboard among 18-to-49-year-olds, with NBC's
Dateline
winning at 6 p.m.,
Amazing Race
on top at 7 p.m. and ABC's
Desperate Housewives
and
Brothers & Sisters
controlling the 8 to 10 p.m. hours.
Friday's local news derby results yielded at least one ice cream cone for everyone, but Fox4 got the most scoops.
WFAA8 won at 10 p.m. in total viewers while Fox4 took the top spot with 25-to-54-year-olds, the main advertiser target audience for news programming.
Fox4 also had a doubleheader win at 6 a.m. and took the 6 p.m. gold in the 25-to-54 demographic.
NBC5 swept the 5 p.m. competitions, with CBS11 running first at 6 p.m. in total viewers.