Bell tolls on further filming in Dallas of ABC's Good Christian Belles
05/18/11 06:12 PM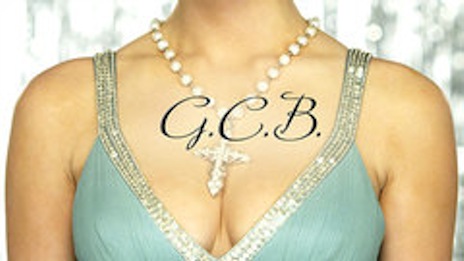 There'll be a cross to bear -- and maybe hell to pay -- when Good Christian Belles makes its midseason prime-time debut. ABC photo
By ED BARK
Co-star Kristin Chenoweth first said it during a Monday morning interview on Fox News Channel. And on Wednesday, Dallas Film Commission head Janis Burklund made it official at this end.
"I have been told the
Good Christian Belles
series will shoot in Los Angeles," she told unclebarky.com via email. "We always knew this one would be more difficult to keep here given its large cast and that it will be heavily shot on interior sets."
Actually, that advances the ball a bit. Chenoweth told
Fox & Friends
that the series would continue filming in either Los Angeles or New York after its pilot episode was shot earlier this spring in Dallas. Adapted from the novel
Good Christian Bitches
, the melodrama was officially picked up Tuesday by ABC, which also announced that it likely wouldn't premiere until sometime in spring 2012.
Chenoweth, Leslie Bibb and Annie Potts are among the stars in a serial soaper about a former high school "mean girl" whose scandal-rocked divorce sends her packing to her hometown of Dallas. Her former high school classmates are now church-going bitches, er, belles, some with festering scores to settle and further gossip to spread.
Burklund said there's a chance that
Good Christian Belles
might occasionally return to Dallas for brief exterior filming. But that's "likely very dependent on their budget," she said. "It's unfortunate. We'd like to have had them. The show and ABC Studio executives all said they had a great experience here, the crew was great, the dailies looked great and there was nothing we could do to change the outcome. I was told it was simply about key individuals (in the cast) that wanted to stay at home and in some cases have children."
The Dallas Film Commission remains determined, though, to not let the big fish get away. That would be the possible TNT remake of
Dallas
, which hasn't been officially green-lighted as a series yet but just completed location shooting in North Texas on a pilot that included Larry Hagman, Linda Gray and Patrick Duffy reprising their old characters of J.R., Sue Ellen and Bobby Ewing.
TNT's "upfront" announcement to advertisers Wednesday of new and returning programming for the 2011-'12 TV season made no mention at all of
Dallas
.
Burklund said she's gotten questions about that omission, but noted that the
Dallas
pilot was shot with an eye toward the 2012-'13 season, "so I wouldn't have expected it to have been mentioned. I believe we'll know before too long about a series pickup, though. I can assure you Dallas isn't out of it (for further location filming) and we are still working hard to ensure it stays here."
In the meantime, here's ABC's trailer for
Good Christian Belles
, which includes a scene in which Bibb's incoming Amanda Vaughn tells Potts' in-the-know Gigi Stopper, "I can't believe all the hostility. Was I that bad back then?"
"Oh darlin', you were a bitch with teeth," Gigi assures her. Emmys aren't likely, but ABC entertainment president Paul Lee assured TV writers Tuesday that
Good Christian Belles
is "gloriously funny."