Day Five: Aguilar vs. Fox
12/10/10 03:49 PM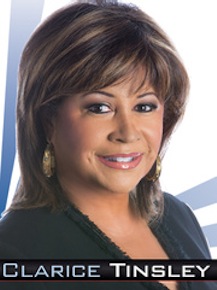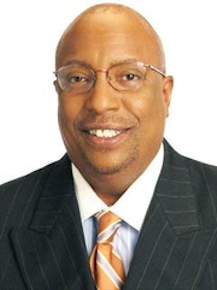 Fox4 veterans Clarice Tinsley and Shaun Rabb myfoxdfw.com photos
By ED BARK
Both sides rested their cases late Friday morning in the Rebecca Aguilar vs. Fox trial after jurors were treated to a jolt of star power from final witness Clarice Tinsley.
D-FW's dean of news anchors, a 32-year veteran at KDFW-TV (Ch. 4), was called in to buttress the defense's case against Aguilar, who is suing the Fox-owned-and-operated station for wrongful termination on the grounds of racial discrimination and retaliation.
There are no more witnesses on the docket, but ample work yet to be done. Opposing attorneys will make their closing arguments to a 12-person jury on Monday after Judge Jim Jordan reads them their marching orders. There is still some wrangling over exactly what jurors will be asked to deliberate on, but lawyers for Fox and Aguilar will have to hash that out before the jury is called in on Monday.
Tinsley worked 17 years for KDFW when it was a CBS affiliate before Fox bought the Dallas-based station in 1995.
It's Aguilar's contention that the station increasingly became averse to hiring minorities for news manager positions after Kathy Saunders became Fox4's general manager in 1997 and Maria Barrs was promoted to news director in 1998. Aguilar's repeated lobbying for more minorities in positions of authority eventually led to her suspension on Oct. 16, 2007, according to her lawsuit. The station allegedly found a pretext to dismiss her after Aguilar's controversial interview with a then 70-year-old West Dallas salvage business owner who shot and killed two would-be burglars within three weeks time.
Tinsley told lead Fox attorney Michael Shaunessy that she had seen no indication of fewer opportunities for minorities under the leadership of Saunders-Barrs. Nor did she feel Aguilar had been treated any differently than her newsroom colleagues, Tinsley testified.
"Their doors are always open," she said of Saunders and Barrs.
Tinsley said that Aguilar occasionally would broach the subject of discrimination in conversations they had. But Tinsley said she never witnessed any racial prejudice on the part of management, and advised Aguilar to keep her head up and continue to do a good job as a reporter.
"Very often she (Aguilar) would have the lead story" on newscasts, or a prominently played report in the first segment, Tinsley said.
Tinsley said she wouldn't work for a station with any pattern of racial discrimination. And that she'd do something about it if she ever became aware of such conduct at Fox4.
"Being someone who's on the air, it's like you're an ambassador for that news department, that news station," Tinsley said of her long tenure as a Fox4 anchor. She currently solos on the 5 and 10 p.m. newscasts after former co-anchor Baron James' contract wasn't renewed.
"Did you and Ms. Aguilar get along?" lead plaintiff's attorney Bill Trantham asked Tinsley during cross-examination.
"Yes, we were friends," Tinsley said.
Still, the two really haven't talked since Aguilar's last day at the station, Tinsley said, describing her former colleague's suspension as a "personnel issue." The lone exception,Tinsley said, was a brief conversation about commemorative jackets they both received several years ago after being nominated for a worldwide, company-sponsored award by News Corporation, parent company of Fox4. According to Tinsley's recollection, Aguilar phoned to ask Tinsley if she still had the jacket she had been given.
During a brief return to the witness stand for rebuttal, Aguilar told Trantham that she had phoned Tinsley about 15 times after her suspension, but never received a return call.
Asked how she felt about that, Aguilar said, "I feel sad that I lost her friendship."
Tinsley acknowledged, during cross-examination, that she met with Fox attorney Shaunessy for about one hour Thursday night prior to her Friday morning testimony. That's certainly not uncommon in any lawsuit case, but Trantham was trying to give jurors the impression that Tinsley had been coached to tow the company line.
Earlier Friday morning, during the second segment of his testimony, defense witness Shaun Rabb praised Aguilar as a dogged reporter who probably had more "exclusive" reports than any other Fox4 staffer. But that was then.
"After Ms. Aguilar was suspended, you stopped talking to her, didn't you?" Rabb was asked.
Yes he had, Rabb said. And if he received any phone calls from Aguilar, he didn't return them.
Rabb said he also was an advocate for minority hiring at Fox4. But unlike Aguilar, he never sent any memos to that effect, Rabb said. He explained that that's not his style.
Asked whether opportunities for minorities had declined with Saunders and Barrs in charge, Rabb answered, "In my opinion, no sir."
In rebutting Aguilar's claims of racial discrimination and retaliation, Fox attorneys have sought to portray her as a sour-dispositioned co-worker whose street reporting skills also eroded over time.
Fox4 photo-journalist Marc Kaminer, whose longevity at the station equals Tinsley's, testified about a courthouse incident in which Aguilar "just kind of grabbed my side and kind of pulled me around" while he was shooting a defendant in the hallway.
She then balked at his handing a tripod to an accompanying station intern, saying station policy didn't allow that, Kaminer said. Aguilar carried the tripod herself to a Fox4 vehicle, and then intentionally dropped and damaged it, he said. He termed her comportment "quite nasty" and "embarrassing" for him. Kaminer then "absolutely" tried to avoid working with Aguilar from then on.
Asked whether he had any "lasting memories" of Aguilar, Kaminer replied, "That's all I really need to remember about her."
During cross-examination by Aguilar's co-attorney, Chis Raesz, Kaminer was asked to name any minorities in management positions at Fox4.
"I do not know of any," he said after a long pause. Fox co-attorney Erin Williams asked him about Barrs, who in fact is Asian-American. But Kaminer said he didn't know if Barrs is a minority or not.
A fourth witness for the defense, attorney Gregory Shamoun, testified that he had done an in-person interview with Fox4 reporter Emily Lopez in connection with the death of a child who died after allegedly being negligently left in a day care center vehicle during July, 2006.
Shamoun said he later received a second interview request from a phone caller who identified herself as Rebecca Aguilar. When he mentioned the earlier interview with Lopez, the caller told him that she had been fired by Fox4, Shamoun recalled. But Lopez is still at the station, and has been since that time.
In the rebuttal segment, Aguilar said of Shamoun, "I didn't know him. I didn't call him . . . I didn't know who he was until I saw him up here and he stated his name."
Obviously there's much for the jury to sort out, including what plaintiff's attorney Trantham disparaged as Aguilar's "phony personnel evaluations" from Barrs while the two sides argued over procedural matters after the last witness had been excused.
But they did agree to Fox4's offer of a TV set and DVD player to be set up in the jury deliberation room for any replays of the visual evidence presented in court. Judge Jordan had earlier noted that the jurors' room has nothing more technological than a chalkboard.
There's one caveat, though. The video equipment supplied by Fox4 cannot have any identifying characteristics -- such as a station logo.
There's a fighting chance for a verdict to come in on Monday.