Local Nielsen ratings snapshot (Fri.-Sun., Sept. 30-Oct. 2) -- Cowboys gets Lions share of sports audience over first two Rangers post-season games
10/03/11 11:33 AM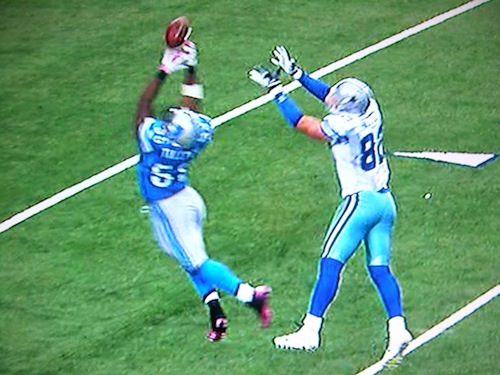 Romo's 3rd INT leads to Lions' winning TD Sunday. Photo: Ed Bark
By ED BARK
The Dallas Cowboys fed themselves to the Lions Sunday while the Texas Rangers averted a no-win situation against the Rays by taking Saturday's second game of the best of five playoff series.
The Cowboys of course had far more D-FW viewers for their record-setting collapse after leading 27-3 in the second half. But the North Texas 9 had respectable numbers Saturday night on TNT. Here's the scoresheet.
Cowboys-Lions, which ran from noon to 3:30 p..m. on Fox, averaged 1,300,672 viewers, with a peak audience of 1,646,106 for the implement-throwing final 15 minutes. Even worse, Fox's A-team announcers, Joe Buck and Troy Aikman, screwed up the down count in the closing seconds, giving some inattentive fans false hope that Dallas had one last chance to fling it downfield in search of a Hail Mary winning TD.
Sunday's debacle was the third most-watched game of the season, with noon start times usually deflating the audience a bit. The No. 1 draw is still the prime-time season opener against the Jets, which had 1,648,317 viewers on the grand stage of NBC's
Sunday Night Football
.
The Rangers' Game 2 win over Tampa Bay, which ran from 6 to 9:35 p.m. on TNT, averaged 433,542 viewers in beating all competing Saturday night programming. Friday's Game 1 (4 to 7:09 p.m. on TBS), a deflating 9-0 Rangers loss, had a comparatively scant 257,416 viewers.
NBC's Sunday night Ravens-Jets matchup drew a bigger crowd than either Rangers game, with 480,961 viewers. And CBS' mid-afternoon/early evening Packers-Broncos game also matched the Rangers' second playoff game with an average of 419,994 viewers.
Sunday night's second episode of ABC's new
Pan Am
dipped to 203,223 viewers to run third in the 9 p.m. hour behind football and a mix of CBS'
The Good Wife
and
CSI: Miami
, both of which were delayed by a football over-run. Andy Rooney's farewell as a regular commentator on
60 Minutes
, drew 304,835 viewers in the program's closing 15-minute segment.
Pan Am
edged up to second place among advertiser-coveted 18-to-49-year-olds, beating CBS in the 9 to 10 p.m. slot.
In Friday night's Nielsens, CBS' second episode of
A Gifted Man
won in total viewers among broadcast networks. But it only had 94,837 of 'em from 7 to 8 p.m. despite competing against comedy repeats on both ABC and NBC. Fox's
Kitchen Nightmares
won the hour among 18-to-49-year-olds, with
Gifted Man
sliding to third. CBS' 9 p.m. episode of
Blue Bloods
was the most-watched broadcast show of the night with 277,738 total viewers.
Friday's four-way local news derby competitions went like this: CBS11 won in total viewers at 10 p.m. but NBC5 ran first with 25-to-54-year-olds, the main advertiser target audience for news programming.
The Peacock added a 6 a.m. win in total viewers, with Fox4 prevailing as usual in the 25-to-54 demographic.
CBS11 took the total viewers gold at 6 p.m.; Fox4 had the most 25-to-54-year-olds at that hour while sweeping the 5 p.m. competitions.