Locally made City of Hate falls short as passion play
11/12/13 09:50 AM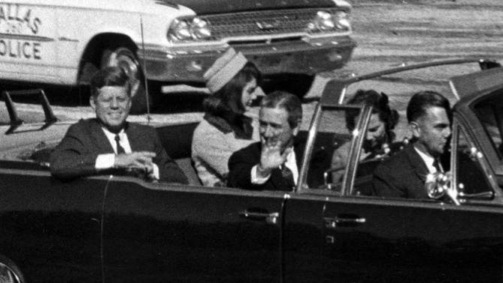 By ED BARK
@unclebarkycom on Twitter
The title is juicy but the one-hour documentary film within tends to be overly dry and at times almost painfully earnest.
City of Hate: Dallas and the Assassination
is anything but a flamethrower. Screened earlier this fall at the Dallas VideoFest, it gets a KERA13 berth on
Wednesday, Nov. 13th at 10 p.m. (central).
Former KDFW/WFAA-TV anchor-reporter Quin Mathews is the writer, editor and director. As a 13-year-old, he also was among those at Love Field when Air Force One touched down on Nov. 22, 1963 with President John F. Kennedy and First Lady Jacqueline Kennedy aboard.
"Many people said Dallas had cultivated a hostile environment against the President or that the city was responsible for his death," Mathews says in his opening narration. "What was the atmosphere of Dallas in 1963? And how did Dallas live with the accusations it was a city of hate?"
Mathews, who also appeared last week in National Geographic Channel's
JFK: The Final Hours
, clearly made
City of Hate
on a low budget via his Dallas-based
Quin Mathews Films
. Its "talking head" approach is cost-efficient to be sure. But some of the film's subjects, particularly Lucy Crow Billingsley (daughter of the late kingpin real estate developer Trammell Crow) and Southern Methodist University anthropologist Caroline Brettell are allowed to prattle on way too long.
Brettell's prolonged discourse on Dallas as a current-day melting pot is delivered near film's end. It's a grinding way to pull down the curtain.
Mathews' best interview is with the still feisty Bruce Alger, a conservative Republican congressman who in 1960 organized a protest against then Senate Majority Leader Lyndon Johnson during his campaign stop in Dallas. Alger reportedly carried a sign that said "LBJ Sold Out to Yankee Socialists."
Johnson later told reporters that he and his wife, Lady Bird, were "hissed at and spat upon." But Alger, now 95, pointedly blames the media for erroneous reporting. "Nobody spat on anybody," he insists.
Future Dallas mayor Wes Wise, then a reporter with KDFW-TV, says that prior to the Kennedys' visit to Dallas, "A lot of things were going on that just didn't seem quite right."
Famed NBC anchor Chet Huntley put it much more vividly on the night of the Kennedy assassination during a
brief commentary
that
City of Hate
doesn't use but should have. He said in part, "There are pockets of hatred in our country, areas and communities where the disease is permitted or encouraged or given status by people who can and do encourage others." He didn't specifically name Dallas. He didn't really have to.
The new book
Dallas 1963
by Bill Minutaglio and Steven L. Davis is far more detailed and instructive on the city's power-broking cast of conservative characters. In one segment,
recently excerpted by The Dallas Observer
, the authors detail
Dallas Morning News
publisher Ted Dealey's open animosity toward the Kennedy administration. It reached a boiling point at a Washington, D.C. luncheon in which Dealey told the President, "The general opinion of the grassroots thinking in this country is that you and your administration are weak sisters. Particularly this is true in Texas right now. We need a man on horseback to lead this nation -- and many people in Texas and the Southwest think that you are riding Caroline's tricycle."
Dealey was sharply denounced by many of his fellow Texas newspaper publishers. But the book notes that
The Dallas Morning News
printed the complete text of his statement to Kennedy, as well as Dealey's version of what happened.
City of Hate
makes no mention at all of
The Dallas Morning News
. Tellingly perhaps, the newspaper also isn't listed among the sources used by Mathews in his making of the film. But the defunct
Dallas Times Herald
is.
Mathews, who waved to the Kennedys on that fateful day in the company of his father and brother, recalls the immediate shame he felt. "At home, I told my parents I couldn't bear to live in Dallas anymore. We had to move."
Howard Weiner, also a boy on Nov. 22, 1963, likewise saw the Kennedys first-hand before being asked to lower his school's flag to half-mast. He tells Mathews: "One of the other kids in front of me said something to the effect that the President probably deserved to die, but he sort of wished it hadn't happened here."
Some of the letters sent to the office of Dallas mayor Earle Cabell were sympathetic in tone. Many others weren't. Mathews' film excerpts a few of them, including the "City of Hate" characterization on the part of one writer. Another letter was even sharper in tone: "Dallas, Texas, the stinking cesspool of America. Damn you."
But
City of Hate
completely ignores how the
Dallas
TV series and its Southfork Ranch replaced Dealey Plaza as the area's No. 1 tourist attraction during the original show's long run on CBS. The Dallas Cowboys also gave the world another reason to see the city in a different light. But the impact of the Cowboys also goes unmentioned, with anthropologist Brettell instead given the opportunity to go on and on -- and on.
The omissions don't make
City of Hate
a terrible film, just an incomplete and rather tame one. At best it adds to the historical record in its own small way amid this month's ongoing cavalcade of 50th anniversary assassination attractions.
GRADE:
C+
Email comments or questions to:
unclebarky@verizon.net