Shootings at Fort Hood put local TV news stations to test
11/05/09 06:01 PM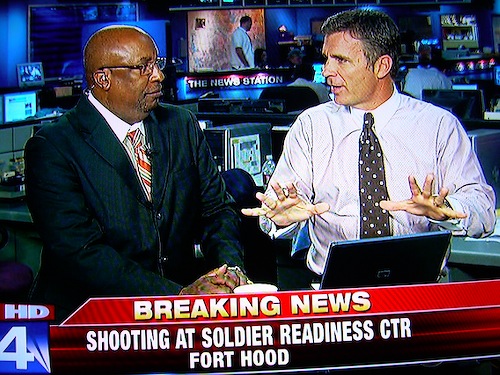 Feeling the news with Fox4's Shaun Rabb, Steve Eagar. Photo: Ed Bark
By ED BARK
Thursday afternoon entertainment programming abruptly gave way to the shocking events at Fort Hood, where 12 people were killed and 31 wounded in shooting that broke out shortly after 1:30 p.m.
The early going is the truest test of a news operation's ability to mobilize its reporters, get to the scene, line up interviews and gather information. In that respect, Fox4 lagged well behind NBC5, WFAA8 and CBS11.
Most of the station's coverage originated from its newsroom, where anchor Steve Eagar and reporter Shaun Rabb seemingly vamped for time while Fox4's rivals conducted live interviews and got their reporters in place for live dispatches.
NBC5 quickly had reporter Scott Gordon in the saddle while WFAA8 dispatched reporters Shelly Slater and Gary Reaves to Killeen, home of Fort Hood. The ABC station also had a live interview from Washington with Texas Sen. Kay Bailey Hutchison; NBC5 summoned retired general Bill Lawson to the anchor desk, where he provided perspective on the situation to anchors Brian Curtis and Meredith Land.
CBS11 initially concentrated more on live interviews of mothers with sons stationed at Fort Hood. One mom, Julie Miller, was overjoyed to learn her son was safe.
"We can hear the relief in your voice," anchor Tracy Kornet told her. "Have you been crying tears of joy?" Well, that's overdoing it a bit.
In contrast, Rabb and Eagar talked amongst themselves at length, with Rabb the most emotional while Eagar's voice tended to fade in and out while he discoursed on video or live shots from other sources.
"Yes, yes, what a day. What a day," Rabb said at one point.
That's called "feeling the news," which is understandable to a point. But Fox4 looked ill-prepared to do much of anything else all the way up to 5 p.m. The lengthy Rabb-Eagar discourses seemed to be camouflage for an almost total lack of actual first-hand reporting
Anchor Heather Hays was up to speed on emails, though, repeatedly reading praise for Fox4's "caring and calm" approach to the story while also noting that viewers initially objected -- by a three to one margin -- to wiping out an afternoon lineup of court shows. Dissenting voices later rallied to Fox4's defense, Hays later reported at length. The station at least gets an A for covering itself.
It got so bad that at one point Rabb noted, "From around the world there are going to be journalists coming here, Steve Eagar. As a matter of fact we have crews enroute."
Compared to rival stations, they were awfully slow in getting there. Fox4's early coverage was so static at times that Rabb and Eagar might as well have been on the radio. Maybe they had no choice but to cross-talk while their station very slowly got its act together. But the hand-wringing and redundancy became hard to bear if you watched at any length.
By the regularly scheduled 6 p.m. newscasts, all four stations had a reporter in place live outside Fort Hood's Ernie Beck Gate, where the media were awaiting a promised news conference. CBS11's Jay Gormley and Fox4's Melissa Cutler joined Gordon and Reaves, but the waiting game persisted all the way to 6:30 p.m. At that point, all four stations went to their regularly scheduled entertainment programming -- three rag mags and
Wheel of Fortune
.
A "new sex tape scandal" was promised at the very start of
Access Hollywood
on Fox4. That's quite a stark transition. But at least it gave the news department time to regroup and get ready for the 9 p.m. newscast after a long afternoon of running behind.