Weathering another storm of weather warnings
04/09/08 11:30 PM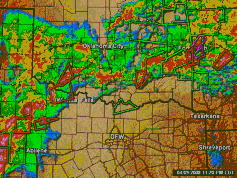 By ED BARK
Fox4 could have been in more of a giving mood on the night of its network's second annual mega-charity event.
Instead it was WFAA8 and CBS11 coughing up advertising revenues by scheduling their "Tornado Watch" updates during commercial breaks.
Let's look at Wednesday night through the prism of high-definition television to get a fuller picture of the weather's impact on prime-time programming.
Those without HD sets for the most part weren't inconvenienced during Fox's two hour, 39 minute
Idol Gives Back
. Seven different "Fox4 Weather Alert" crawls crept along the bottom of home screens, always ending with the annoying "Stay with Fox. We'll keep you 4 warned." The conventional box picture otherwise remained the same, though.
HDTV owners -- guilty, your honor -- had quite a different experience. Fox4 is the only major TV news provider in D-FW without HD capability yet. So its weather bulletins were always accompanied by a shrinkage of those crystal clear, widescreen HD pictures to a comparatively murky-looking box. Each time a crawl ended, the sound cut out for a split-second while the HD picture returned. It was hardly a severe hardship, but it did underscore the covered wagon approach that Fox4 is still taking compared to its competitors.
The station could, of course, have sacrificed some commercial revenue on a big charity night by bringing weatherman Dan Henry in during the breaks from
Idol Gives Back
. In turn the crawls could have been scrapped and HD viewers would have been much happier. But that didn't happen.
CBS11 forecaster Larry Mowry and his station did quite the opposite. So did WFAA8 and Pete Delkus. For the most part they both popped in during commercial intervals, sacrificing revenue in the interest of serving viewers better. What a concept that is.
Mowry made it a point to say on several occasions that "what you're seeing here now is not interrupting your show." He otherwise had two HD programs on his radar -- new episodes of
Criminal Minds
and
CSI: NY
. CBS11 let them air in all their full-screen HD glory, with nary a crawl or a fruit salad mini-map in view.
ABC had a non-HD lineup of two cheesy reality series --
Wife Swap
and
Supernanny
-- and Diane Sawyer shot through cheesecloth for a
Prime Time Live
special. Even so, weatherman Delkus pretty much stayed out of the way until it was time for commercials to kick in. And the station's on-screen weather graphics were non-intrusive, particularly considering the programming at hand.
NBC5, which like WFAA8 and CBS11 has in-studio HD capability, made mostly successful efforts to keep the full wide-screen picture intact for the Peacock's high-definition presentations of
Law & Order: Criminal Intent
and
Law & Order
. Meanwhile, a weather crawl and accompanying smallish map kept viewers updated.
The HD picture occasionally shrunk, though, perhaps until NBC5 had gotten the hang of it. And weatherman David Finfrock got knocked out of the box during the one time I saw him try to make an appearance during a commercial break from
Law & Order
. He began updating the situation before an Arby's spot abruptly cut him off. That's the last I saw of him in prime-time, save for one of his own in-house commercials.
At least NBC5 was trying, though. And so, for that matter, was Fox4. But we're increasingly living in a high-def world while Fox4 continues to delay the inevitable. Sometimes that can bite you. And during
Idol Gives Back
, it did -- at least in HD homes.
Footnote:
Fox had announced on Tuesday that the three remaining major party presidential candidates all would make (pre-taped) appearances on
Idol Gives Back
. But Barack Obama, John McCain and Hillary Clinton were nowhere to be seen on the actual telecast.
Obama and Clinton tapes reportedly were shown to the audience during taping of the special Sunday night. But McCain's spot supposedly fell short on production values and was supposed to be re-done. Whatever happened, all three ended up hitting the cutting room floor. As did Jim Carrey, Dr. Phil and a few other previously announced participants.