Local Nielsen ratings snapshot (Fri.-Mon., Feb. 12-15) -- Olympics, NBA All-Star game, etc.
02/16/10 09:36 AM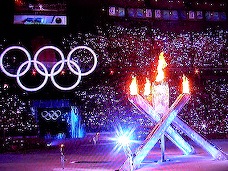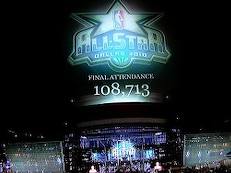 By ED BARK
Sunday night's Olympics vs. NBA All-Star game matchup was pretty much a blowout, despite the pro hoopsters' presence on North Texas soil.
NBC's third night of Winter Games coverage averaged 658,271 D-FW viewers during the 6 to 10 p.m. prime-time slot. The high-scoring, down-to-the-last second All-Star game at Jerry's Palace in Arlington drew 427,537 viewers during its 7:50 to 10:37 p.m. running time on TNT.
The portion of the Olympics that ran directly opposite the All-Stars made an even stronger showing with 698,989 viewers. The Olympics also dominated the All-Stars among advertiser-craved 18-to-49-year-olds, not surprisingly winning by a wider margin among women than men.
Afternoon coverage of the Olympics also outdrew Fox's much-delayed Daytona 500. Sunday's most-watched non-sports attraction, the second episode of CBS'
Undercover Boss
, had a nice-sized 325,742 total viewers in the 8 p.m. hour. Focusing on Hooters probably didn't hurt.
Saturday's prime-time Olympics coverage averaged 610,767 viewers and Monday's drew 583,622. All three competition nights were less-watched than Friday's opening ceremonies from Vancouver, which topped the D-FW charts with 800,783 viewers.
Friday's 10 p.m. local newscast audiences were notably deflated by NBC's opening ceremonies over-run.
Opposite the pageantry, WFAA8 "won" with just 128,940 total viewers after drawing 373,247 on the previous night. Fox4 ran second Friday with 81,436 viewers while CBS11 took a hollow bronze with 67,863 viewers. WFAA8 also topped the downsized 10 p.m. field among 25-to-54-year-olds, the main advertiser target audience for news programming.
In other local news derby results, NBC5 swept Friday's 6 a.m. competitions while Fox4 took both 6 p.m. golds and WFAA8 did likewise at 5 p.m.
On Monday, WFAA8 won at 10 p.m. in total viewers but was edged by CBS11 among 25-to-54-year-olds. However, CBS11's win didn't count because it opted to take an "H" for President's Day. So that throws out those numbers and gives WFAA8 the win.
NBC5 similarly coughed up what otherwise would have been a pair of 6 a.m. firsts. WFAA8 joined the Peacock in taking a knee for President's Day, leaving Fox4 with a pair of golds in a two station race against CBS11.
All four stations opted to play for keeps at 5 and 6 p.m. NBC5 swept those competitions in both ratings measurements and likely will do very well both this week and next with Olympics coverage serving as afternoon and prime-time sandwich bread.