Local Nielsen ratings snapshot (Fri.-Sun., Dec. 9-11) -- giant numbers, Giants win
12/12/11 12:32 PM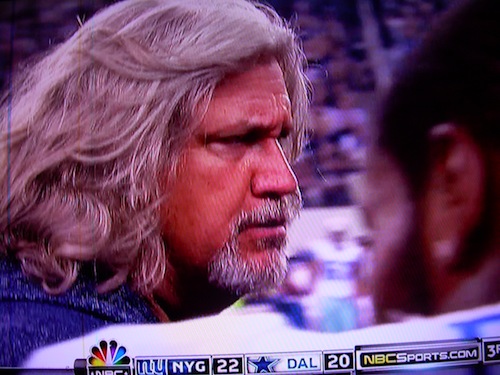 No jolly ho ho ho for Rob Ryan after his defense again falls apart.
Photo: Ed Bark
By ED BARK
Losing on NBC's
Sunday Night Football
-- before bigger than usual D-FW crowds -- has become a tradition for the Dallas Cowboys.
The team's latest 4th quarter collapse, which led to a 37-34 New York Giants win at Jerry's Palace, marked the sixth straight
SNF
defeat for Dallas. This one stretched until just before 11 p.m. and averaged 1,591,914 viewers locally. That's just a few smidges shy of the season record to date -- 1,634,465 viewers for the Sept. 11th
SNF
opener against the Jets.
Cowboys-Giants peaked at 1,693,525 viewers for the closing 15-minute increment, in which "iced" kicker Dan Bailey had a game-tying 47-yard field goal blocked to end matters.
Earlier Sunday on CBS, the Green Bay Packers improved their record to 13-0 with a rout of Oakland. It averaged a nice-sized 541,928 viewers after the earlier CBS game -- Houston vs. Cincinnati -- drew 298,060. Fox's early Sunday game, the Saints vs. the Titans, had 379,350 viewers.
Saturday's most-watched prime-time attraction was ABC's two-hour Republican presidential candidate debate, the 2,867th in a continuing series. It drew 196,449 viewers.
On Friday, local viewers gave a frosty reception to a half-hour edition of the syndicated
Extra
, which was taped earlier that day in Dallas for a 6:30 p.m. airing on NBC5. It had a paltry 60,967 viewers, well less than one-third the crowd for CBS11's competing
Wheel of Fortune
(209,997 viewers) and less than half as many as WFAA8's
Entertainment Tonight
(121,934). But
Wheel
fell hard to fourth among advertiser-coveted 18-to-49-year-olds, with
Extra
inching up to third behind fellow rag mags
Access Hollywood
(on Fox4) and
ET
.
Friday's local news derby proceedings had at least one lollipop for each of D-FW's four major TV news providers.
CBS11 nipped NBC5 for first place in total viewers at 10 p.m., but the Peacock ran solidly on top with 25-to-54-year-olds, the main advertiser target audience for news programming.
Fox4 swept the 6 a.m. competitions in dominant fashion and added a 5 p.m. win in total viewers.
CBS11 ran first at 6 p.m. in total viewers, but WFAA8 took both early evening news golds in the 25-to-54 demographic.