Not since Nitschke
01/31/11 01:02 PM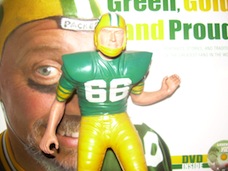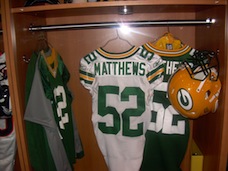 Linebacker Ray Nitschke still looms large amid Uncle Barky's Packer trinkets while Clay Matthews follows in his path and has a locker room replica at NFL Experience in downtown Dallas. Photos: Ed Bark
Uncle Barky's native state Green Bay Packers are scheduled to touch down in Dallas later this afternoon. So as anticipation builds for Sunday's titanic matchup against Pittsburgh, here's another chapter in our pre-game festivities.
The Pack had a snarling monster on defense during the Vince Lombardi glory years. That would be the late No. 66, linebacker
Ray Nitschke
, who died at the tender age of 61 in 1998 after ascending to the NFL Hall of Fame two decades earlier.
Nitschke wore glasses off the field, but was a terror on it. Thirty-eight years after his final game with Green Bay, the team at last has another folklore-ic intimidator on defense in the form of No. 52, outside linebacker Clay Matthews.
Picked 26th in the first round of the 2009 draft, Matthews' long locks and He-Man roars after sacks have quickly made him one of the NFL's most visible and voluble defenders.
The bumbling Dallas Cowboys could have had Matthews with the 20th pick of the 2009 draft. But they instead traded it away to Detroit along with two lower picks in return for the Lions' Roy Williams. Yeah, that's gone really well.
Below is an inventive Matthews highlight reel which spares D-FW viewers the stop-in-his tracks mega-hit he delivered on Cowboys' running back Marion Barber during the Packers' regular season 45-7 route of Dallas. On the following day, a color-drained Jerry Jones fired head coach Wade Phillips. You're welcome.
Ed Bark