WFAA8's Watson makes a power play after 34 years of singular reporting
03/20/13 05:41 AM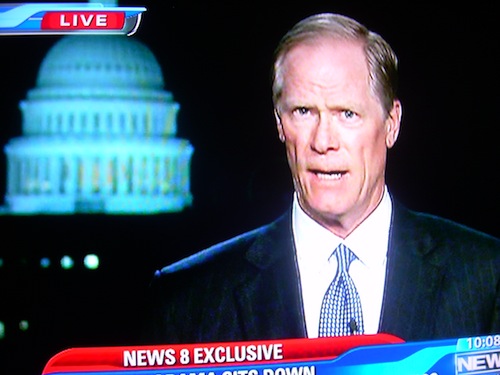 Brad Watson in 2011 "standup" from Washington, D.C. Photos: Ed Bark
By ED BARK
@unclebarkycom
No one is indispensable, everyone is replaceable and time marches on.
It would be nice to exempt Brad Watson from all three of these. The 34-year WFAA8 veteran also seemed immovable before surprising management this week with his decision to move on and become communications director for Luminant Energy. His last day at the Dallas-based station will be sometime in mid-April. His first day dawned way back in January 1979.
Watson, 59, has specialized in political reporting during his later years with WFAA8. But he also held down the weekend anchor spot for most of the 1990s and has reported on major breaking news events ranging from the Branch Davidian compound standoff in Waco to Hurricane Katrina. He was still in the saddle, returning from a story, when reached Tuesday evening by phone.
"I wasn't looking for it, but it was something that came to me . . . I wouldn't say it was the great lure of an 8 to 5 job," Watson said of being the Dallas-based principal spokesman for Texas' largest electrical power generator. "There was nothing negative at the TV station. I wasn't pursuing something out of unhappiness. It was more a case of looking at something I really found fascinating. The people at the company are smart as a whip. I've got a lot of work years left, it's an important position and it'll be fascinating, interesting work."
As previously posted, Watson joins a raft of experienced WFAA8 news staffers who have left the station in just the past year-and-a-half for public relations positions. Chris Hawes, Craig Civale, Cynthia Vega and Casey Norton all resigned. And longtime anchor-reporter Debbie Denmon became the main media liaison for Dallas County District Attorney Craig Watkins after the station declined to renew her contract in July of last year.
Watson, who still has about a year left on his WFAA8 deal, has often been stonewalled as a reporter. He pledges to be media-friendly in his new post.
"I think these positions really have evolved over time," he said. "You've got to get out and talk to reporters. You can't have a bunker mentality. You have to get your industry's point of view out there. Because if you don't, there are others who will fill that vacuum. You've got to facilitate, not obfuscate. The 'old school' type would phone you and make it personal or call you a profanity. It's short-sighted, it's ineffective and I don't think it does your company or your business any benefit at all."
One of the campaigns, which he won't name, used that tactic on him during the contentious 2012 U.S. Senate race, Watson said. But his most
famous dustup
came in April 2011 during a brief sit-down interview in Washington with President Obama.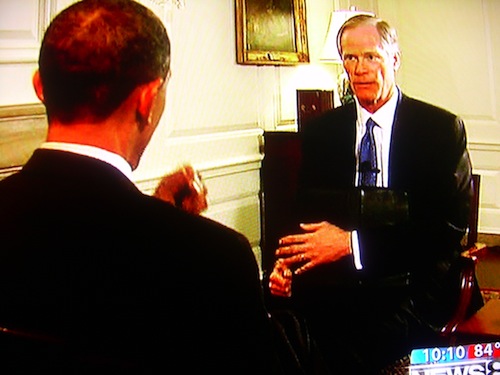 Watson and President Obama go toe-to-toe in spring 2011.
Watson and local TV reporters from Denver, Indianapolis and Raleigh were each given seven-minute sit-downs with the president. In his subsequent condensed, taped report, Watson told viewers that "after the interview, Mr. Obama pointed out that he doesn't like an interviewer challenging his comments."
The president then was shown telling Watson, "Let me finish my answers next time we do an interview."
"All right, sir," Watson replied on-camera. "Thank you."
One of their flash points came when Obama was asked, "Why do you think you're so unpopular in Texas?"
The president said progress was being made after his 2008 presidential campaign "lost by a few percentage points in Texas."
"Well, you lost by about 10," Watson corrected him. And he was right about that. Republican John McCain beat Obama by a margin of 55.39 to 46.63 percent.
There were other less than genial exchanges, although WFAA8's subsequent posting of the
complete unedited interview
showed that Obama had a tendency to filibuster as well as interrupt Watson, who was hardly a provocateur.
Watson and former WFAA8 news director Michael Valentine declined to comment at the time. Watson is now ready to talk.
"I agree that if one looks at the whole interview, it really was underwhelming," he said Tuesday. "I didn't do anything different from what I saw other Washington reporters do in their interviews. I knew I was going to be flying in very rarefied, stratified air, and didn't have much time."
The president perhaps expected an easier time -- or perhaps even a quartet of patsies from Podunk when the locals sat down with him. But "an interview is supposed to be a conversation," Watson said. "I think maybe his staff could have prepped him better. I thought we'd have more give-and-take, but he seemed perturbed at the end. He showed a flash of temperament, and so the editorial call was made to put it in at the end. I went there to do a news interview. Maybe he didn't think it was supposed to be like that."
Watson and the president ended up making national news, with excerpts from their interview dissected by
The O'Reilly Factor, The Drudge Report, The Huffington Post
and many others.
"It's a very tough position to be in," Watson said. "It's just the president and me. And then you get swept up in the partisan stuff. It was uncomfortable for me. There are people who take that and then wrap their own partisan analysis in it. But that comes with the territory."
Watson, tall, bass-voiced and generally buttoned-down on the air, went against that grain during the 2006 gubernatorial campaign. In a highly unusual Labor Day report,
he used dolls
furnished by his two daughters and a friend to illustrate the race among incumbent Rick Perry and challengers Kinky Friedman, Chris Bell and Carol Keeton Strayhorn.
"I wanted to do something that was kind of innovative and clever . . . instead of just doing a campaign strategy piece that Wolf Blitzer might do," Watson explained at the time. "I wouldn't have done it if there hadn't of been the Kinky (action) figure. So I wondered how we could do this without making it look cheesy or goofy. It had some nuggets of information in there and it got people's attention. The thing that's been remarkable to me is the voter apathy out there."
Down the home stretch of his WFAA8 career, Watson anchored WFAA8's Sunday
Inside Texas Politics
program. It attracted all of the city and state's main players, prompting anchor Shelly Slater to call Watson "the pillar of Texas political journalism" during the station's announcement of his departure.
He doesn't know if the show will go on without him. "That's up to them," Watson said of WFAA8 management. (News director Carolyn Mungo could not immediately be reached for comment early Wednesday.)
"It's been a wonderful run at WFAA," he said. "I truly believe that our viewers have brains. I give them a lot of credit for doing their own thinking. So I always try to report straight down the middle. I don't need any of this advocacy stuff. You treat everybody fairly and accurately. I've taken that as a real badge of honor."
Time will tell whether Watson made the right choice by joining many of his former WFAA8 colleagues in the PR game. For now it looks like a bright, bracing new world.
"I was won over by them in the end," he said of the Luminant Power people who wooed him. "It wasn't my plan to be part of any trend. Life opens doors of opportunity when you least expect it.
"I thought about it a lot, and decided I'd like to try this."