CW33's new commentator: "I'm Anna Fermanova. Some call me the sexy Russian. And that's my take."
09/10/10 02:58 PM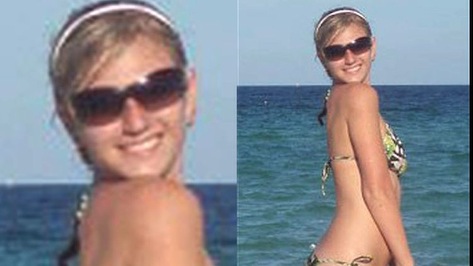 New CW33 commentator Anna Fermanova in pictures posted on the station's website. Accused of being a weapons smuggler, she made her on-air debut Thursday night during CW33's 9 p.m. newscast.
By ED BARK
No, you just can't make this stuff up. And yes, I do have some qualms about giving shameless Dallas-based CW33 another shot of free publicity.
Still, you have to wonder how much more the station's qualified reporters and meteorologists can take. Any respectable work they do is invariably tarnished by CW33's continued belly flops into sexploitation at any cost. Latest example: Management has hired accused arms smuggler Anna Fermanova, 24, of Plano as its newest on-air commentator. She's been dubbed the "sexy spy" by some, and doesn't seem to mind a bit.
"Some call me the sexy Russian. And that's my take," Fermanova said at the close of her debut commentary on Thursday's 9 p.m. newscast. She chose the pithy subject of Ashton Kutcher's alleged cheating on wife Demi Moore. Kutcher has categorically denied it and has hinted at a lawsuit on Twitter.
But Fermanova, no stranger to skimpy bikinis, twitted Moore for posting a "sexy photo of herself" on Twitter in reaction to the initial report in
Star Magazine
that Kushton had been seen smooching a 20-year-old blond at an Italian restaurant.
"A woman her age, 47, taking such an impudent approach to gain some spotlight is simply absurd," Fermanova pronounced before calling on Moore to instead help flood victims, as Angelina Jolie is doing.
"So there you go, Demi," she reasoned. "Follow Angelina's example and make a difference with that power that your popularity has given you." Huh?
For the record, Fermanova was detained at New York's JFK airport on March 1st and eventually charged with attempting to smuggle night vision rifle scopes to Russia. They were found in her luggage. Her attorney says she's innocent of any wrongdoing and loves the U.S. And what a country it is, as CW33 has proven time and again.
Below is Fermanova's first commentary, which is another kick to the nether regions of those left at CW33 who take affront but basically are helpless to do anything about it lest they be shown the door. There's plenty more where they came from. In fact, you, too, could be the next CW33 commentator. Just pole dance on a street sign near the station's Dallas offices. And make sure that news director David Duitch sees you. Any finder's fees are payable to unclebarky.com.