Dirk gets up close, unusually personal in Fox Sports Southwest's latest In My Own Words special
12/08/09 04:49 PM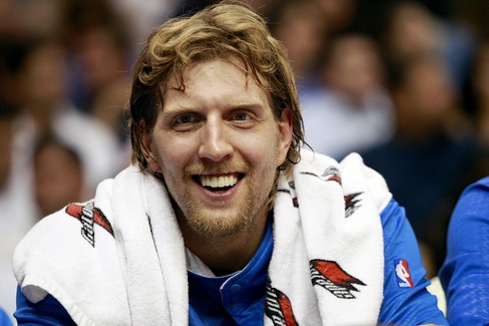 By ED BARK
Dallas Mavericks star Dirk Nowitzki opens up and admits to a trauma-induced eating/drinking bender on a new episode of
Fox Sports Southwest's
In My Own Words
series.
He tells interviewer Dana Larson that last May's media feeding frenzy over his since-ended
relationship with Cristal Taylor
prompted him to go "on a binge there where I ate and drank everything in sight, probably all of May and June. I was almost 265 pounds, the heaviest I've ever been in my career. Once I started to work out again I definitely had to lose some weight. I lost about 20 pounds and am now at 245."
The entire half-hour interview premieres on
Friday, Dec. 11th at 10 p.m. (central)
and will be repeated throughout the month.
Nowitizki also tells Larson that "I'm going to try to get my private life out of the media again for the rest of my career. I'm still trying to do the same things I did before, and that's have fun. I don't want to be miserable and think about what happened the last couple of months. I don't want to think about it all the time. I want to move forward and have fun with people again. Not only with my teammates, but with everybody like I did before. That's important to me."
The German-born forward, in his 11th NBA season, is having another MVP-caliber year so far. But he emphatically says that a championship is all that matters anymore.
"It would be nice to play in (this season's) All-Star game since it's here in Dallas, but I don't really care about it that much anymore," Nowitzki says. "It's all about winning the championship. That's way more important at this point in my career . . . I've got to win that championship."