This just in: A night in the lives of D-FW's 10 p.m. newscasts (Thurs., Nov. 12)
11/13/09 11:50 AM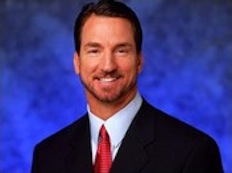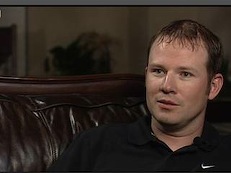 Sports anchor Babe Laufenberg and Cowboys staffer Rich Behm
By ED BARK
CBS11 sports anchor
Babe Laufenberg's
extended exclusive interview with paralyzed Dallas Cowboys staffer Rich Behm provided an uplift on a night otherwise marked by heavy-duty crime and tragedy stories on all four stations.
Behm, paralyzed during the May 2nd collapse of the team's practice bubble, said he at first thought he was dead and then realized that "something was horribly wrong." His wife, Michelle, also talked to Laufenberg as they sat side by side in the couple's home.
The Behms laughed easily, with Michelle saying, "He amazes me every day."
"Do you hold out hope that you'll walk again?" Laufenberg asked.
"Oh yeah," Behm said, also noting that "I have a wife and three kids, and the minute I feel sorry for myself, we're in big trouble."
It was his first interview since the tragedy. And Laufenberg acknowledges, on the
cbs11tv web site
, that he's known both Rich Behm and his brother, Chris, for many years. It also obviously helps that Laufenberg is a former Cowboys quarterback and the game day analyst on the team's radio broadcasts. That said, Laufenberg did a very good job with the interview, and deserves credit for that.
NBC5 also had a unique Cowboys angle during what usually is the inconsequential small talk following sports anchor
Newy Scruggs
' segment.
The station's piece on the team's upcoming game with the Packers noted that QB Tony Romo intends to let his hair keep growing until the Cowboys lose. News anchor
Jane McGarry
then said she likes Romo's hair long.
"She's always on those young guys," Scruggs then said of the still frisky, middle-aged McGarry.
"Thank you. I think," McGarry rejoined before Scruggs said, "Tony Romo . . ." and stopped there.
"Ah, be quiet," a chuckling McGarry shot back. But you just knew she loved it.
NBC5's
Scott Friedman
earlier had an interesting piece on what anchor
Brian Curtis
termed a "Texas-sized comeback" in cattle rustling. Friedman, who otherwise anchors NBC5's weekend morning newscasts, reports only occasionally for the 10 p.m. newscasts. But his extended pieces invariably are worthy and well-produced. This one was from Hubbard, TX in Hill County. So much for the monthly travel budget.
WFAA8's Thursday late nighter was uncommonly pedestrian, with anchors
John McCaa
and
Gloria Campos
narrating a heavy volume of short video blips as well as promoting Sarah Palin's upcoming Monday appearance on
The Oprah Winfrey Show
and sports anchor
Dale Hansen
's latest "Unplugged" non-sports commentary on the station's ratings-challenged
Daybreak
program.
Enterprise stories by WFAA8 reporters
Chris Hawes
and
David Schechter
were nothing exceptional this time out. In short it was pretty much a yawner.
Sad to say, Fox4's throw-in-the-towel 10 p.m. newscast was pedestrian as usual. It also was the heaviest on crime/tragedy, where Fox4 lately has supplanted NBC5 as the station to beat in that field. There were no distinctive enterprise stories at all. Everything Fox4 had also was reported by one or more of its rivals.