WFAA8's Brad Hawkins books flight to Southwest Airlines position (updated)
11/25/08 12:11 PM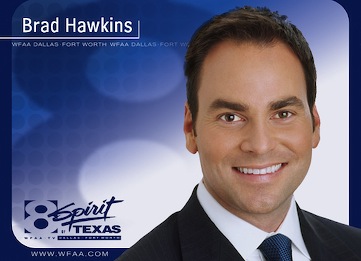 By ED BARK
Brad Hawkins, co-anchor of WFAA8's
Daybreak
since July and a member of the station's news team since January 2000, will be leaving next month to take a public relations position with Dallas-based Southwest Airlines.
WFAA8 news director Michael Valentine confirmed Hawkins' departure Tuesday and also said that his last day at the station will be on Christmas Eve, when he'll sign off after anchoring WFAA8's
Midday
newscast.
"I wish nothing but the best for Brad. He's a fantastic guy," Valentine said. "He just found a situation that he thought would be better for him."
Daybreak
has hit a ratings slump of late, and will run third in the November "sweeps" in both total viewers and among 25-to-54-year-olds, the main advertiser target audience for news programming.
Hawkins, in a subsequent interview, said he made the decision on his own and was not under any pressure to leave WFAA8.
"I feel I'm jumping from one of local TV's greatest news dynasties to one of the most emulated and respected companies in the world," he said. "I didn't see this opportunity coming again any time soon. And I'm at a crossroads in terms of opening myself to new challenges and new skills."
Hawkins began co-anchoring
Daybreak
with incumbent Cynthia Izaguirre after Justin Farmer left WFAA8 in July to become an anchor at WSB-TV in Atlanta. WFAA8 had committed to Hawkins for at least the rest of this year. Beyond that, "no final decision had been made," Valentine said Tuesday. "But we thought Brad did a fine job. So we certainly could have envisioned a decision where he was still part of the morning team."
With Hawkins' departure, "we're back at it again," Valentine said of
Daybreak
's future anchor team. "It's just another change to a show that continues to change. We will search for his replacement immediately."
Another interim co-anchor might be named after Hawkins leaves WFAA8, but "we're not there yet," Valentine said. He also noted that from May to September, 40 percent of Nielsen Media Research's in-home ratings meters have turned over in the D-FW market. "That's a monster number" in his view.
November has been a setback for
Daybreak
, Valentine acknowledged. But a shift of just six meters can make the difference between being first and third in the early mornings, he said.
"If you look at an individual number (for a sweeps month) and freak out or go crazy, you're not doing anyone any good," Valentine said.
Fox4's
Good Day
will win the 6 a.m. November sweeps competition by relatively comfortable margins in both total viewers and 25-to-54-year-olds, with a rebounding NBC5 finishing second.
Fox4 also won the November 2007 sweeps in both ratings measurements. But WFAA8 ran a solid second a year ago while NBC5 lagged well behind in third.