Ryan/Tamishia Moats tell their story exclusively on GMA while WFAA8 bides its time (updated)
03/30/09 10:20 AM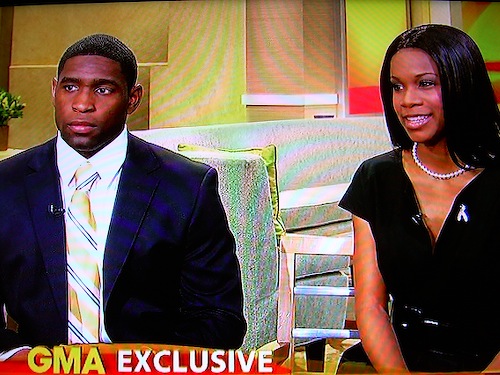 Ryan and Tamishia Moats on Monday's GMA. Photo: Ed Bark
By ED BARK
Ryan Moats and his wife, Tamishia, making their first television appearance Monday, said they're willing to accept the apology of Dallas police officer Robert Powell, who
detained them for a traffic violation
while her mother was dying at Baylor Regional Medical Center in Plano.
"It would be comforting, you know, if we heard an apology directly from him," Tamishia told
GMA
co-anchor Robin Roberts during the 7:30 a.m. half hour of the ABC program. "But up until this point, we have not received a personal call from him directly . . . We definitely would accept his apology, because, you know, he's a human being."
Powell's attorney has issued a written apology for the officer's actions on the night of March 17th. Captured on a dash-cam police video, the incident since has become a major national story. Moats, a running back with the NFL's Houston Texans, is a graduate of Dallas' Bishop Lynch High School. His mother-in-law died before he was able to see her.
Moats said that Powell initially "was pointing a gun" at his wife before she decided to defy his orders and rush to the bedside of her mother.
"Honestly, he could have shot me . . . At that point in time, I was ready for anything he was going to do," Tamishia said.
Ryan said he "wasn't reckless at all" in driving to the hospital, and ran a red light only after other motorists gave him the go-ahead. His vehicle's emergency lights were flashing throughout.
"I didn't have a problem with paying the ticket," he said, but had hoped that Powell first would let him say goodbye to his mother-in-law.
WFAA8 reporter Rebecca Lopez, who broke the story last Wednesday, also was in New York to interview the Moatses for what she said would be their only on-camera comments to a local TV station. On WFAA8's Sunday 10 p.m. newscast, anchor Shelly Slater gave the impression that Lopez's interview with the Moatses would air during the station's ratings-challenged
Daybreak
before the couple appeared on
GMA
.
"Hear what Ryan Moats and his wife have to say first tomorrow morning on News8's
Daybreak
. . . And then following
Daybreak
, Moats will talk with
Good Morning America
," Slater told viewers.
But only a small excerpt from the previously taped
GMA
interview aired on
Daybreak
. And that didn't happen until 6:54 a.m. after the program teased it throughout the early morning.
WFAA8 news director Michael Valentine said the station had hoped to get a portion of Lopez's interview live on
Daybreak
, but there were delays in
GMA
's production schedule. The program's opening hour usually is pre-taped for central time zone feeds.
"Rebecca was following
GMA
. We thought they'd be done in time," Valentine said Monday morning. "Otherwise there were no problems with anything.
GMA
was very accommodating." WFAA8 is an affiliate of ABC.
Portions of Lopez's interview with the Moatses will begin airing on WFAA8's 5 and 6 p.m. newscasts Monday. Viewers initially were told that the station's
Midday
news program would carry excerpts, but they likely won't be ready in time for that broadcast, Lopez said by telephone from New York.
As previously reported on unclebarky.com, CBS' low-rated
Early Show
had said that it would have an exclusive interview with the Moatses on Friday's program. But the couple belatedly backed out, because Tamishia was still grieving the loss of her mother, according to a CBS11 spokesperson.