Dallas doing Dallas again a major "woo hoo" for Film Commission director Janis Burklund
07/01/12 11:15 AM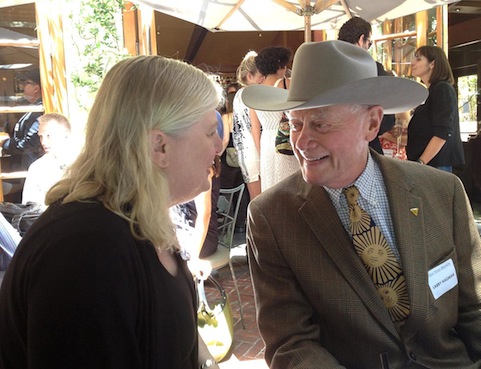 Dallas Film Commission director Janis Burklund and Larry Hagman at recent marketing brunch at Spago in Beverly Hills. Photo: Leslie Rosenthal
By ED BARK
@unclebarkycom
Dallas Film Commission director Janis Burklund is accustomed to adversity when it comes to enticing and keeping network TV productions in North Texas.
But setbacks are in her distant rear view mirror after landing the big one Friday. TNT's decision to
renew Dallas for a second season
-- while upping its episode order from 10 to 15 -- is a gusher for the area film community and the Dallas economy.
"Although the Fourth of July is coming, it sort of feels more like Christmas to me," Burklund said in email comments sent to unclebarky.com. "Working with the
Dallas
production team has been a dream. And I don't expect to wake up in the second season and find that the first was only a dream either!."
The decision to both green-light
Dallas
and keep filming the series in its namesake city pretty much makes up for all that might have been had other network drama series been successful.
At one point in 2010, Fox's
The Good Guys
and
Lone Star
, and NBC's
The Chase
all were filming simultaneously in the Dallas area. But cancellation notices came quickly, particularly in the case of
Lone Star
, which lasted just two episodes.
ABC's legal drama
The Deep End
, also filmed in North Texas, likewise met a quick demise. And the network's
GCB
(short for
Good Christian Bitches
) opted to film in Los Angeles after shooting the pilot in Dallas. It's also been canceled.
A proposed
Dallas
feature film, with John Travolta initially signed to play J.R. Ewing, also was off and on for years before falling apart. It makes the success of TNT's
Dallas
a long-awaited bonanza.
"We've truly enjoyed a real partnership with the producers and I have believed in this project since reading the initial pilot script," Burklund said. "That's not something I can say about other
Dallas
scripts I've read through the years. (Co-executive producer/head writer) Cynthia Cidre has done a terrific job of blending what was great about the original series in with the new."
Burklund also said that her bosses within the city's Office of Economic Development "have supported the efforts to land and keep this show here. They've truly 'gotten it' like never before . . . The city could not afford to purchase anywhere near this type of advertising. Being a character itself in the show is not something you can just buy."
Burklund vividly recalls the night that Cidre and co-executive producer Michael Robin became city of Dallas converts.
"We walked out of dinner the first night of the 'scout,' and the city skyline was glimmering in front of us as we walked towards the car," Burklund said. "Cynthia and Mike stopped in their tracks, and Mike stretched his arms in the air, hands far apart and said, 'This is our show!' I know that sounds corny, but it's true."
Burklund estimated that another 15 episodes shot on location in and around the city "will likely amount to approximately $18 million in direct spending and an economic impact somewhere north of $40 million. It's very rewarding to know that at least some of our cast and crew will be able to stay home to work for a while, and we're doing everything we can to help make that a long while."
Dallas
, which airs on Wednesdays at 8 p.m. (central), will hit the halfway mark of its first season on July 4th. TNT will repeat the first four episodes from 4 to 8 p.m. on that day before No. 5 premieres.