That sinking feeling: Real Housewives of Dallas takes another ratings dip
04/27/16 07:59 AM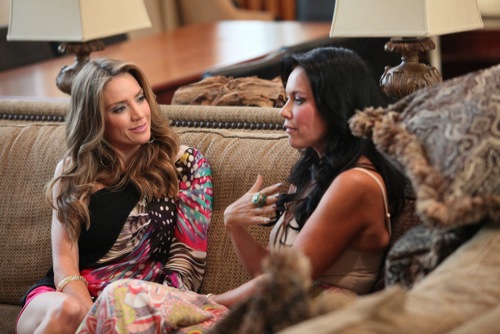 Cary Deuber and LeeAnne Locken during one of their rare calmer moments together in Real Housewives of Dallas. Bravo photo
By ED BARK
@unclebarkycom on Twitter
The wealth of enthusiastic, oftentimes fawning local coverage of
Real Housewives of Dallas
has not led the way to national ratings prosperity.
The alcohol-addled, self-absorbed, cackling, conniving, oh-so-white denizens of
RHOD
instead took another hit with Monday night's Episode 3.
It averaged just 828,000 viewers nationally, down from a weak 1,076,000 for the April 11th premiere and 920,000 for last week's hour. Worse yet,
RHOD
dropped a notch to a .3 rating among advertiser-prized 18-to-49-year-olds after hitting a tepid .4 mark for the first two episodes.
In contrast, Bravo's two other currently ongoing
Housewives
series, set in Beverly Hills and New York City, continued to easily out-pace
RHOD
while also upping their audiences from week to week.
The Tuesday, April 19th edition of
Beverly Hills
had 2,034,000 viewers in the same-night Nielsens, up from 1,978,000 for the previous week. And on Wednesday, April 20th,
Real Housewives of New York City
drew 1,428,000 viewers, an increase from the previous week's 1,242,000. The shows respectively had .7 and .5 ratings in the 18-to-49-year-old demographic.
RHOD
is the eighth spinoff of the 2006
Real Housewives of Orange County
original. So far, only 2010's
Real Housewives of D.C.
has been canceled after just one season. But even that show was something of a blockbuster compared to
RHOD
. Its least-watched episode had 1,117,000 viewers and the finale bulked up to 1,670,000 viewers.
In January of this year, Bravo took a second shot at the nation's capital with
Real Housewives of Potomac
, which drew over 2 million viewers on premiere night to set a franchise ratings record for a first episode.
Potomac
, which ended its Season 1 run on Sunday, April 17th, already has been renewed for a second go-around.
RHOD
so far is on track to become the only
Housewives
series to average fewer than 1 million viewers per episode for an entire season. The first three episodes have drawn an average of 941,333 viewers while continuing on a downward spiral.
That would not appear to be a recipe for renewal, although it still remains too early to completely count
RHOD
out. So far, though, the blend of Brandi Redmond, LeeAnne Locken, Cary Deuber, Stephanie Hollman and Tiffany Hendra has been going down like "Two Buck Chuck" at one of the show's upper crust, high-heeled charity galas.
Redmond in particular has made a pathetic spectacle of herself on a show where that's hard to accomplish. After flaunting her "Poop Hat" in Episode 2, the former Dallas Cowboys Cheerleader got "shit-faced" (as Deuber put it) at LaBare before staggering onstage to suggestively dance with one of the club's hunks. Redmond then later wondered why her husband, Bryan, didn't understand. After all, he again was away on business, and they used to really have such great times partying together. So what's a girl to do? And so on.
The
Housewives
franchise long has traded on cat fights, marital unrest, heavy drinking and gross exaggeration.
RHOD
, however, is not proving to be a guilty pleasure based on ratings for its first three hours. Its revolting cast of central characters instead is being tuned out, despite TEGNA8 anchor Marcus Moore's gushing during a
Midday
newscast after the first episode had aired.
"Everybody loves it. Absolutely incredible," he told viewers before welcoming Deuber as his guest.
Cary, Brandi, LeeAnne, Stephanie and Tiffany of course will be more than happy to keep drinking to that.
Email comments or questions to:
unclebarky@verizon.net