Briefly in D-FW television news
08/20/12 04:50 PM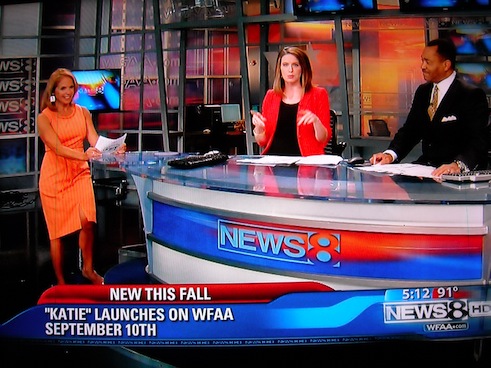 Katie Couric popped in on WFAA8's 5 p.m. newscast. Photo: Ed Bark
By ED BARK
@unclebarkycom
Katie Couric has been in D-FW Monday (Aug. 20), cutting promos with WFAA8 anchors John McCaa and Shelly Slater for her upcoming daytime talk show.
She also popped in on the 5 p.m. newscast for a brief chat with McCaa and Slater.
As previously posted,
Katie
will air at 4 p.m. weekdays on WFAA8, with
Dr. Oz
sliding from that time slot to 3 p.m. The ABC affiliate also will continue to carry Anderson Cooper's struggling
Anderson
, which is getting a makeover and a new title,
Anderson Live
, this fall. It will air at 2 p.m. instead of 3 p.m.
Katie
, scheduled for a Sept. 10th premiere, is the big-ticket show, though. Distributed by Disney-ABC Domestic Television, it's getting the prime slot once occupied by Oprah Winfrey in many TV markets. WFAA8, which has declined to develop a local 4 p.m. news program to compete with those on NBC5 and CBS11, is hoping that
Katie
will funnel an appreciably larger audience than
Dr. Oz
did during its year at 4 p.m.
***
Fox is showcasing its fall quartet of Tuesday night comedies with advanced theater screenings in 10 cities. One of the venues is Dallas, where on Sunday, Aug. 26th attendees can watch newcomers
Ben and Kate
and
The Mindy Project
plus returnees
New Girl
and
Raising Hope
.
After the screenings, cast members from those comedies will participate in a "live Q&A event" that will be satellite-fed from the Santa Monica College Performing Arts Center. All seating is first-come, first-serve. You can reserve a spot by RSVPing via email to FOXTuesdayDallas@AlliedIM.com.
Start time for the screenings is 7 p.m. in Dallas, with doors open one hour earlier. The venue is AMC Valley View 16; 13331 Preston Rd 2300; Dallas, TX 75240.
***
The top 10 finalists from Fox's ninth edition of
So You Think You Can Dance
will be touring against this fall. The North Texas venue, on Oct. 30th is Verizon Theatre at Grand Prairie.
Tickets go on sale on Friday, Aug. 24th at
AXS.com
.