WFAA8 names new Good Morning Texas co-host, casts wider net for Gary Cogill
07/26/09 05:34 PM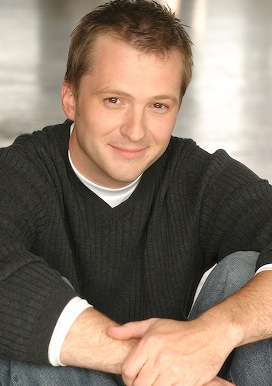 New GMT co-host Robert McCollumBy ED BARK
Local actor, comedian and voice-over specialist Robert McCollum is the new male co-host of
Good Morning Texas
, replacing the reassigned Gary Cogill, Dallas-based WFAA8 announced Sunday.
McCollum will quickly dive in. His first day on
GMT
, which airs at 9 a.m. weekdays, will be on Monday, July 27th.
"After living and working in the area for more than 15 years, Rob knows D-FW and brings an interesting creative spark to
GMT
," the program's executive producer, Dave Muscari, said in a publicity release. "The fact that he's a dad also helps him connect to the concerns of the many parents among
GMT
viewers. I think our audience will enjoy his warmth and sense of humor."
McCollum joins holdover co-host Amy Vanderoef, who recently became a first-time mom. The show also features Paige McCoy Smith in "Not-So-Perfect-Parent" segments as well as mini-infomercials in which guests pay WFAA8 to promote their products during interview segments.
Cogill, who will still occasionally appear on
GMT
, has been named WFAA8's performing arts reporter while also continuing to review movies for the station.
"Performing arts in Texas deserves comprehensive reporting," WFAA8 president and general manager Mike Devlin said in a statement. "Sports teams grab headlines. However, on any given night just as many, or even more people attend a significant number of concerts, movies, theater, museums and other cultural happenings in D-FW."
Cogill has been with WFAA8 since the early 1990s.
McCollum
has done voice-over work for commercials (Taco Bueno, the Texas lottery), corporate films and numerous cartoons, including
Dragon Ball Z
. He's also been in some locally produced plays and has a handful of film credits, among them the 2003 NBC movie
Saving Jessica Lynch
, which was shot in North Texas.
His most recent film credit, 2009's
Angela's Body
, is described as a "tragic tale of one woman's descent into postpartum psychosis that ends with terrifying consequences." McCollum plays her doctor.