Local Nielsen ratings snapshot (Fri.-Sun., April 10-12) -- Spieth is Masters of his domain
04/13/15 10:32 AM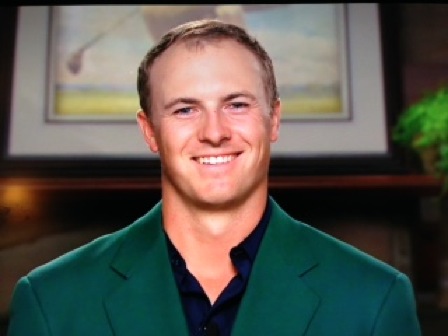 Jordan Spieth and the wearin' of the green. Photo: Ed Bark
By ED BARK
@unclebarkycom on Twitter
Sunday's final round of the Jordan Spieth-dominated Masters ranked as the weekend's overall top TV attraction -- and by a long shot, too.
The 21-year-old Dallas native's big win on golf's grandest stage ran from 2 to 5:53 p.m. on CBS. It averaged 313,830 D-FW viewers with a peak audience of just over a half-million -- 502,128 viewers -- for the closing minutes.
The climactic Green Jacket ceremony, which aired in the 6 to 6:15 p.m. segment, also scored big with 432,388 viewers.
The Masters was a bit of a bogey, though, among advertiser-prized 18-to-49-year-olds. Sunday's closing round averaged 50,461 viewers in this key demographic, That put it behind three prime-time Fox programs --
Family Guy
(78,845 viewers), Fox4's 9 p.m. local news (66,230) and the 8 p.m. episode of
The Last Man On Earth
(63,076).
Fox's 8:30 p.m. episode of
Last Man
and ABC's
Secrets and Lies
tied The Masters in the 18-to-49 range with 50,461 viewers each. And in post-prime time, Gannett 8's 10 p.m. newscast had a higher 18-to-49 yield (69,384 viewers).
AMC's
Mad Men
, now in its final seven-episode arc, continues to be largely ignored in D-FW. The new 9 p.m. episode stumbled in with 34,870 total viewers and 15,769 in the 18-to-49 demographic. Ratings were not immediately available for HBO's 8 p.m. Season 5 launch of
Game of Thrones
.
Saturday's third round of The Masters was the day's biggest draw in total viewers with 188,298. That easily beat Fox's prime-time coverage of the NASCAR Sprint Cup race at Texas Motor Speedway (104,610 viewers). The 9 to 10 p.m. portion of the race also was outdrawn by CBS'
48 Hours
(125,532 viewers).
The Masters likewise beat speed racing among 18-to-49-year-olds, ranking as the day's No. 1 attraction in this age range.
Friday's Texas Rangers home opener, which started at mid-afternoon, averaged 90,662 total viewers and 31,538 in the 18-to-49 demographic on Fox Sports Southwest. The day's top overall prime draw, CBS'
Blue Bloods
, had 209,220 total viewers while CBS'
The Amazing Race
led among 18-to-49-year-olds with 50,461.
Here are Friday's local news derby results.
NBC5 ran first at 10 p.m. in both total viewers and 25-to-54-year-olds (main advertiser target audience for news programming).
Fox4 swept the 6 a.m. races and added twin wins at 5 p.m.
The 6 p.m. golds went to CBS11 in total viewers and NBC5 with 25-to-54-year-olds by a slight margin over Gannett8.
Email comments or questions to:
unclebarky@verizon.net