Cowboys win by Eagles beak, with Michaels-Collinsworth sharp throughout
11/08/09 11:18 PM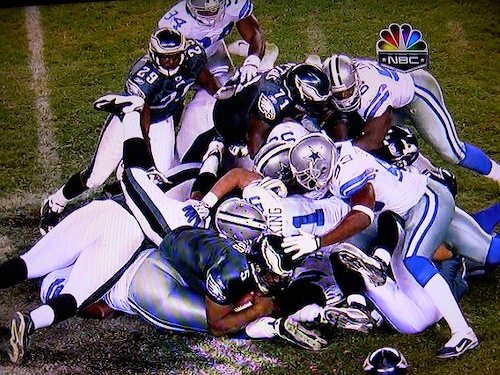 Cowboys take over after refs rule McNabb short. Photos: Ed Bark
By ED BARK
Did QB Donovan McNabb make it to the peak of the Eagles beak or not during the 4th quarter of NBC's
Sunday Night Football
gem?
Announcers Al Michaels and Cris Collinsworth, the best in the business, were on top of that one and everything else in the Cowboys' gutty and controversial 20-16 road win against Philadelphia.
This was a game of inches on three key occasions, with the Eagles losing two out of three challenged rulings and forfeiting a pair of second half time outs in the process. Michaels and Collinsworth, who replaced the retired John Madden this season, have an inside-out knowledge of the NFL rule book and the intricacies of the game. And they spelled everything out in clear and often colorful terms Sunday. That's all you can ask for in an announcing team, and these two invariably measure up.
Take the "Eagles beak" call. In a 13-13 tie game, Philadelphia decided to go for it on 4th and inches from the Cowboys' 44. McNabb's quarterback sneak seemed to be enough for a first down, but the referees spotted the ball short. Eagles coach Andy Reid threw the challenge flag and replays seemed to show McNabb's elbow touching down with the ball farther upfield at the peak of the beak of the Eagles logo.
Still, the original ruling was upheld and the Cowboys took over on downs. Collinsworth told viewers that referees can use on-field logos as visual evidence in re-spotting the ball. But he also noted that the semi-sideways McNabb's invisible left arm might have touched the ground before his right.
The upshot: Philadelphia had no time outs left with 10:49 still left in the fourth quarter. And the Cowboys, with great field position, quickly struck with a 3rd and 14 touchdown pass from Tony Romo to Miles Austin. The 49-yard score was the lately celebrated Austin's only catch of the game.
An earlier second half challenge also went against the Eagles, but Michaels and Collinsworth sided with the Cowboys on that one. They were impeccably fair throughout, and pointed at times, too.
"We've seen a lot of Walt's (ref Walt Anderson) fingers tonight, haven't we?" Collinsworth said, noting his repeated signals of inches to go for a first down.
"Yes, we have," Michaels agreed. "A few fingers have been directed
at
Walt as well."
"We
are
in Philly," Collinsworth added.
Michaels also imaginatively termed Cowboys' running back Marion Barber "sort of the Mariano Rivera for the Dallas Cowboys." In other words, when you need to grind down the clock -- as Dallas did in the closing minutes -- Barber is one of the league's optimum closers.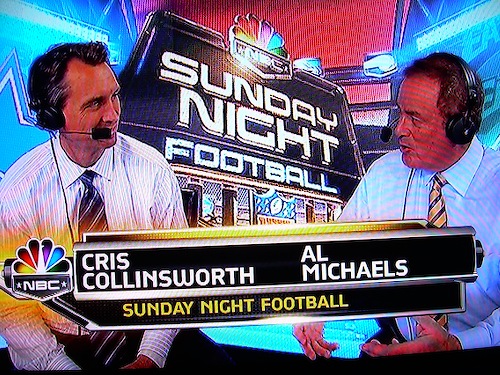 None better. If only they could work Monday Night Football, too.
The scintillating Cowboys' win, their fourth in a row, puts them at 6-2 and atop the NFC East. Which means that ESPN radio's (103.3 FM)
Randy Galloway
will be hard-pressed to snort "Cows stink" or call for head coach Wade Phillips' firing on his weekly "Over-Reaction Monday" horsecrap fest.
Next up for Dallas is a road game against the Green Bay Packers, who stunk worse than rotting Limburger in losing Sunday to the previously winless Tampa Bay Buccaneers. Those who read this site regularly know that your friendly content provider is a now far-removed Wisconsin native who still pines for the Pack.
But Green Bay has sunk to 4-4, has beaten only doormats and looks like an easy mark for the talent-laden, on-a-roll Cowboys. This is the NFL, though, where today's fragrant bouquet can be tomorrow's dung heap. Ask the New York Giants. And don't be shocked if the Packers somehow rise from their currently unmarked grave. Hopefully they'll at least rise to the smell of fresh-cut cheddar.
Michaels and Collinsworth again will get next Sunday's marquee matchup though -- the unbeaten Indianapolis Colts vs. the proud and still unbowed New England Patriots.
However it turns out, these two guys undoubtedly can be counted on to call another great game. Their performance throughout the turbulent Cowboys-Eagles contest should be used as a teaching tool in broadcast 101 courses. Terrific work from start to finish.