Veteran investigator Kimberly King joining NBC5
05/09/11 11:53 AM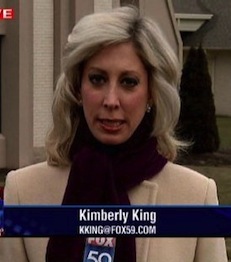 By ED BARK
NBC5, without a full-time investigative reporter for at least the past decade, will soon have one.
The Fort Worth-based station has hired Kimberly King, a Southern Methodist University graduate who's currently on the staff of Fox 59 (WXIN-TV) in Indianapolis.
The station describes her as "unflappable and dogged when it comes to stories that matter." King will be a consumer/investigative reporter when she joins NBC5 on June 27th, the station says.
She has won a Murrow Award among others during her time at Fox 59, which dates at least as far back as the 2000 firing of Bobby Knight as Indiana University basketball coach, which King covered.
King also has filled in at times as a weekend meteorologist at Fox 59, and is accredited by the National Weather Association and American Meteorological Society.
NBC5 currently has five meteorologists on its staff, so King likely won't be needed in that capacity.
ALSO OF NOTE:
Persistent rumors are floating that NBC5 is considering relocating from the only home it has had since signing on in 1948 as WBAP-TV. Its main building has always been in Fort Worth, in a tucked away location at 3900 Barnett St.
Some sources contend that NBC Universal-owned NBC5, whose modern-day call letters are KXAS, is considering a move to a location near American Airlines corporate headquarters in Fort Worth (4333 Amon Carter Blvd.) Others have said there even could be a move out of Cowtown to somewhere in Dallas, although that would be a surprising seismic shift as well as a severe jolt to the station's longstanding image as Fort Worth's only major homegrown TV station. NBC5 currently maintains a small satellite office in Dallas.
NBC5 has declined to comment, other than to note that the station periodically evaluates its options in terms of whether a move of its main offices would be advisable. One of those periods is currently in progress, according to numerous sources.