NBC5's latter day hiring binge marks a U-turn in D-FW television news
03/06/12 12:41 PM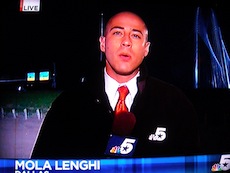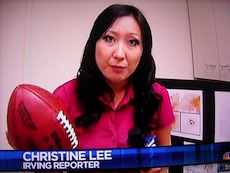 Mola Lenghi and Christine Lee are among an armada of new reporters at Fort Worth-based NBC5. And they're all full-timers living in the communities they cover, says station management. Photos: Ed Bark
By ED BARK
New faces abound at NBC5, and they're not just replacement parts filling open on-camera vacancies.
Nor are they part-timers or freelancers serving apprenticeships in hopes of some day making the varsity.
All eight of them "are full-time employees," news director Susan Tully said in a telephone interview. And with company benefits, too, she confirmed when asked.
For the most part, however, they do shoot, write and edit their own content. Salaries weren't discussed. But as younger reporters who mostly are making sizable market jumps, it's logical to assume they aren't breaking the bank just yet. They are, however, getting lots to do in a major TV market during times when hiring freezes and salary cuts have become commonplace at TV news operations large and small.
NBC5, in contrast, is deploying a virtual armada of ethnically diverse newcomers, "the bulk of them" hired in 2011, Tully said. It's a follow through on NBC Universal's previous pronouncement that its 10 owned and operated stations, which include Fort Worth-based NBC5, would be hiring more than 130 news staffers under new parent company Comcast's initiative to "ensure they have the resources necessary to effectively compete in their markets."
Five of the eight reporters have specified community beats, and are required to live in those areas, Tully said. Two others are based in Fort Worth while Keaton Fox is a "multi-media journalist" working the early morning shift from "an NBC5 mobile unit traveling the roads of North Texas."
Their reports typically air during morning, late afternoon and early evening newscasts, Tully said. "They're covering a really specific community and they need to cover their beats when City Hall is open."
Some of the newcomers pop up on weekend night shifts, though. Arlington-based Mola Lenghi branched out Saturday for a live 10 p.m. report from that day's grand opening of the Margaret Hunt Hill Bridge.
Here they are, with short descriptions included from their nbcdfw.com bios:
Keaton Fox
-- the early morning multimedia reporter arrived from KRIS-TV in Corpus Christi. A University of Oklahoma grad, he also worked at stations in Wichita Falls and Oklahoma City.
Christine Lee
(Irving/Grand Prairie beat) -- joined NBC5 from KPNX-TV, the Peacock affiliate in Phoenix. She graduated from UCLA's School of Theater, Film and Television.
Mola Lenghi
(Arlington beat) -- last worked at WPDE NewsChannel 15 in Myrtle Beach, SC. Studied history and journalism at Coastal Carolina University in South Carolina.
Tammy Mutasa
(Garland/Mesquite beat) -- a native of Zimbabwe, she grew up in Coppell and graduated from R.L. Turner High School. Her first TV reporting job was with NBC affiliate KAMR-TV in Amarillo. She later completed the NBC News Associates Program, helping to prepare segments for
Today
and
Dateline
. The UT-Austin grad also has a degree from Columbia University's Graduate School of Journalism.
Catherine Ross
(Plano beat) -- previously anchored and reported for a Minot, North Dakota TV station. Born and raised in Connecticut, she graduated from Northwestern University's Medill School of Journalism.
Sara Story
(Denton beat) -- a Fort Worth native, she joined NBC5 from KLTV 7 News in Tyler. She was ABC News' campus "bureau chief" while attending the University of Texas at Austin, where she graduated with a Bachelor of Journalism degree.
(Alas, in her case, the surname "Story" turns out to be a little too good of a story. Her
given name is Loeffelholz
, which she was still going by as a 22-year-old campus correspondent for ABC News. Too much of an anchor tongue-twister?)
(Story said in a subsequent email that her middle name is Story. And to make it easier on anchors and viewers, she decided to make it her last name while reporting for Tyler's KLTV. So there's the whole story.)
Chris Van Horne
(Fort Worth beat) -- previously worked as a video journalist in Bakersfield, CA. Graduated from the University of Missouri-Columbia with a major in broadcast journalism and minor in political science.
Andrew Tanielian
(Fort Worth beat) -- has a masters degree in Public Affairs Reporting from the University of Illinois. He eventually became a photographer/reporter in Springfield, IL., but no previous television station work is mentioned in his station bio.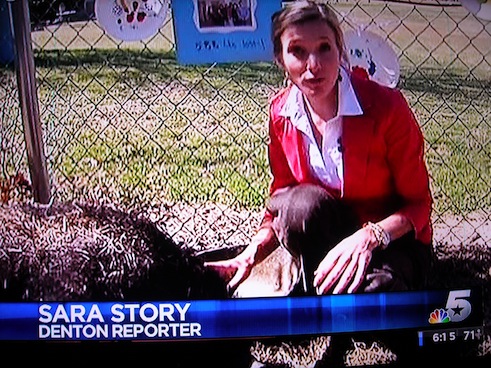 Newcomer Sara Story recently reported on a dieting pot-bellied pig in Flower Mound who's now a church mascot for parishioners also looking to lose weight. It aired during Monday's 6 p.m. newscast.
NBC5 is promoting the new approach as the only way to effectively cover a No. 5 television market with almost 6.8 million viewers. An ad that first ran during Feb. 5th on Super Bowl Sunday -- and since has been repeated many times -- began with co-anchor Meredith Land telling viewers that "North Texas is made up of many big cities."
"And each of them has a story," added co-anchor Brian Curtis. Early morning anchor Deborah Ferguson said the station therefore is dedicated to being "right there with you, where you live, where you work."
These stories tend to avoid the crime and pestilence still pockmarking many a late night newscast on all of D-FW's major TV news providers.
Story had a homey little story Monday on a dieting pig who's become a church mascot and an inspiration for parishioners to shed pounds. Lee recently reported concussion concerns tied to high school football. Ross had a piece on the increasing popularity of roadside sales banners, and the potential safety threats they might pose to motorists. And Lenghi reported on the excitement at UT-Arlington over an upcoming Drake concert. Not earthshaking, obviously. But decently reported stories with a nice community flavor.
"All of the stations talk about doing local news well," NBC vice president of programming Brian Hocker said during the telephone interview with Tully. "We're saying that clearly these cities are capable of generating enough local news that they deserve their own reporter. And that's why we're doing this."
"We're just excited that the company is investing in all of the (owned) television stations," Tully said. "The company gets that we're all unique markets."
As previously posted, NBC5 also recently hired another new full-time reporter in addition to the eight newcomers featured here. Kendra Lyn is joining the station later this month from Orlando, Florida's WESH-TV, where her on-air name was Kendra Oestreich. She'll be part of an expanded morning team hoping to thwart some strong ratings advances being made by rival WFAA8.
All of this gives NBC5 a total of 18 full-time street reporters, with early morning co-anchor Scott Friedman included in the mix as the station's pending head of a relaunched investigative unit. Amanda Fitzpatrick, who also reports from the field, remains as a freelancer. And the count of 18 likewise doesn't include anchors such as Land, Curtis, Kristi Nelson and Deborah Ferguson, who also occasionally hit the streets.
"We're enjoying it," Tully says of a bulked up news, weather, sports and traffic staff of 35 that now outnumbers the full-time brigades at NBC5's three major rivals -- Fox4 (28); WFAA8 (30) and CBS11 (30). A year or so ago at this time, NBC5 had the market's smallest full-time staff.
The station remains in a hiring mode, seeking both a morning co-anchor to succeed Friedman and a wake-up weathercaster to replace Jennifer Lopez,, who had a four-year run before recently leaving the building.
Whether it all proves to be a long-lasting new day at NBC5 is still an open question. But for now it's all systems go -- which is better than all those recent yesteryears.