Local Nielsen ratings snapshot (Sun.-Mon., Jan. 17-18) -- Cowboys' closeout falls short of 2 mil mark
01/19/10 10:34 AM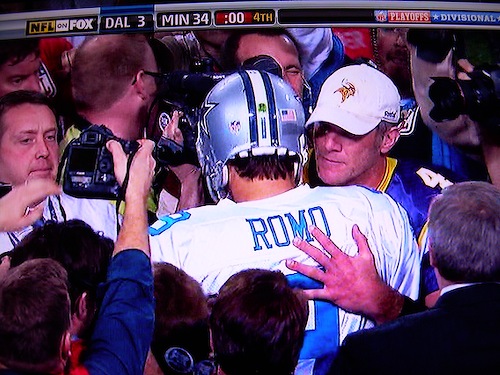 Hey kid, I've been there. Brett 'n' Tony meet post-game. Photo: Ed Bark
By ED BARK
Building to a peak between 2:15 and 2:30 p.m. -- and then dwindling after that -- Sunday's Cowboys playoff exit on Fox fell well short of being the team's most-watched game of the season.
Running from 12:05 to 3:05 p.m., the 34-3 loss to the Vikings averaged 1,696,575 D-FW viewers. That puts it fourth on the season-ending list, with the Cowboys' first-round playoff thrashing of the Eagles topping the charts with 1,940,882 viewers in prime-time on NBC.
Cowboys-Vikes peaked at 1,927,309 viewers between 2:15 to 2:30 before sliding to 1,587,994 in the closing minutes. Every Cowboys game this season drew over one million viewers.
Sunday's other playoff game, the Jets' upset of the Chargers, averaged 739,707 viewers on CBS.
In prime-time action, NBC's three-hour telecast of the Golden Globes won the night with 339,315 viewers.
Fox's sneak-preview of its
Human Target
series, which returns on Wednesday, got off to a decent start in the 7 p.m. hour with 264,666 viewers before the two-hour Season 8 premiere of
24
upped that total slightly to 271,452 viewers.
24
ran third in the 8 p.m. hour behind both the Globes and ABC's
Desperate Housewives
(305,384 viewers). It then moved up to second from 9 to 10 p.m., whipping ABC's
Brothers & Sisters
(183,230 viewers).
The Globes also topped Sunday night's ratings among advertiser-favored 18-to-49-year-olds, with
24
beating both
Desperate Housewives
and
B & S
in that measurement.
24
returned with a second two-hour dose on Monday night, averaging 264,666 viewers from 7 to 9 p.m. It narrowly lost to ABC's first hour of
The Bachelor
from 7 to 8 p.m., but beat
The Bach
in the following hour. The 8 to 9 p.m. roost was ruled, however, by CBS' new episodes of
Two and a Half Men
(393,605 viewers) and
The Big Bang Theory
(366,460 viewers).
In the 9 p.m hour, a new episode of CBS'
CSI: Miami
(291,811 viewers) barely beat ABC's increasingly popular
Castle
(285,025 viewers).
On The CW, Monday's premiere of
Life Unexpected
drew 81,436 viewers to finish fifth from 8 to 9 p.m. But in the network's 18-to-34-year-old target audience,
Life Unexpected
moved into fourth place just behind the second hour of
The Bachelor
.
NBC's
Heroes
was the mega-loser in this age group, drawing a sub-piddling 5,075 viewers compared to
Life Unexpected
's 45,679. The 33's 9 p.m. local newscast then dove down to 11,843 viewers in the 18-to-34 age range.
In local news derby results, WFAA8 had a big day that won't officially count because it took a Martin Luther King holiday designation for all four of its principal newscasts. That wipes out total viewer wins at 5, 6 and 10 p.m., plus golds at 6 and 10 p.m. among 25-to-54-year-olds, the main advertiser target audience for news programming.
NBC5 likewise coughed up two 6 a.m. wins by opting for the Holiday asterisk.
Among the stations that came to play, CBS11 swept the 10 p.m. newscast ratings and Fox4 did likewise at 6 a.m. NBC5 ran the table at 6 p.m., as did Fox4 at 5 p.m.