Pete's winter wonderland
03/21/10 02:41 PM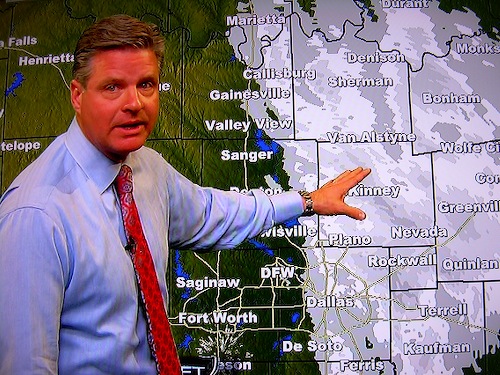 Greetings from WFAA8's Sunday morning snow man. Photo: Ed Bark
By ED BARK
Tweeting like a mad man
and as usual stripped to his shirtsleeves, WFAA8 weathercaster Pete Delkus again made his presence felt as spring snow fell fast and flurry-ous under Sunday's dark.
Delkus hit the air bright and early, making him the only marquee forecaster to do so Sunday. NBC5 deployed backup Samantha Davies while leading man David Finfrock hibernated. Fox4 and CBS11 don't have local waker uppers on Sundays, leaving their respective main meteorologists, Dan Henry and Larry Mowry, out of the picture.
"There's nothing like waking up Sunday to several inches of snow," Delkus declared. WFAA8 no doubt smells a fresh promotional opportunity. And Big Pete won't try to talk 'em out of it. Whatever you think of him, he loves this stuff.