Bob and Chris Elliott will be copping this year's Dallas Video Festival Kovacs Award
10/16/15 01:48 PM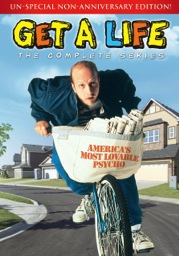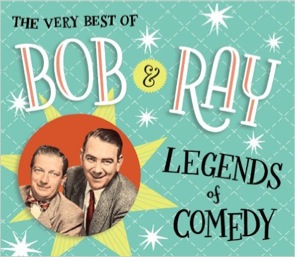 Chris Elliott and his father, Bob, of Bob & Ray comedy team fame.
By ED BARK
@unclebarkycom on Twitter
From the mind of Chris Elliott on page 119 of his "unauthorized" 2012 autobiography,
The Guy Under the Sheets
:
"Chris suddenly found himself on a treadmill. Every day was marked by the same relentless routine: he rolled out of bed before dawn, stumbled into his bathroom, lit up a Gitane (his latest addiction), and jumped into a piping-hot tub of lard. Then after downing a few nips of schnapps and popping a handful of Mrs. Paul's tartar pills (a more concentrated version of the over-the-counter stuff), he slathered his entire body in motor oil, which gave him the swarthy macho appearance he had longed for ever since he first saw
Shaft
."
Clearly he's eminently qualified to be this year's recipient of the Kovacs Award, named after decidedly off-center TV pathfinder
Ernie Kovacs
. Chris, 55, will accept the honor in person late Sunday afternoon at the
Dallas Video Festival
while his father, Bob, 92, will join him via Skype. Showtime is 4:30 p.m. at the Angelika Film Center, 5321 East Mockingbird Lane in Dallas (75206).
The Elliotts are joint winners of an award dating to 1997. Previous honorees include Martin Mull, Mike Judge, Terry Gilliam, Joel Hodgson, Paul "Pee-wee Herman" Reubens, Robert Smigel, George Schlatter and, last year, Harry Shearer.
Chris, father of former
Saturday Night Live
regular Abby Elliott, broke into television as David Letterman's favorite performance artist during the early years of his NBC
Late Night
show. Bob, in tandem with comedy partner Ray Goulding, worked in television during some of the same years Kovacs did. The oft-improvisational
Bob and Ray
aired from 1951 to 1953 on NBC. The show also featured Audrey Meadows and Cloris Leachman.
Chris regaled Letterman with an assortment of recurring characters and impersonations. He'd pop in on a moment's notice as The Regulator Guy, The Panicky Guy, The Fugitive Guy, The Conspiracy Guy and The Guy Under the Seats as well as doing sendups of Marlon Brando, Jay Leno, Marv Albert, Morton Downey Jr. and others. His 1993 feature film
Cabin Boy
, a decidedly acquired taste, marks the only time Letterman has been seen on the big screen as a character other than himself.
Chris made the film after his 1990 Fox TV series,
Get A Life
(which co-starred his real-life father), failed to capture the country by storm. Chris has never really captured anything by storm, but his comedy has never been built for widespread acceptance. Years later, though, it still seems fresh as a daisy -- or perhaps a jar of refrigerated mayonnaise. Something like that.
Chris's dad made sure his son grew up knowing what was important and what wasn't.
"It was, 'Dad, I gotta do homework,' " Chris recalled during a 1987 interview with your friendly content provider. "He'd say, 'Well, let' watch some TV first, young man.' The TV was always on, from the early evening news to
The Tonight Show
, when I fell asleep."
We talked in a Las Vegas showroom on the day after Chris graced a
Late Night
road show with his portrayal of Skylark, a fictional Chris Elliott impersonator who'd been appearing in Kenny Kerr's "Boy-lesque" revue at the Silver Slipper.
"Bad TV, that's where I find most of my stuff, yeah," he said. "The
Mannixes
and the
Cannons
and the
Medical Centers
are sort of gold mines for me. My goal is to have my own cop drama one of these years. I'd definitely like to have my own kind of
Mannix
show."
During his last appearance with Letterman earlier this year, Chris briefly became legitimately choked up while telling his benefactor that "everything that I have is thanks to you." Letterman in turn praised him as the "funniest man I've ever worked with" before Chris performed "To Dave with Love."
We'll close with that clip and a companion one of Bob and Ray in a "Television Referee" sketch from their early 1950s TV show. Both are positively Kovacs-ian, as Ernie never said.
Email comments or questions to:
unclebarky@verizon.net