Local Nielsen ratings snapshot (Tues., April 3) -- WFAA8 out-draws Fox4 in a mostly two-way battle for biggest shares of afternoon weather audience
04/04/12 11:04 AM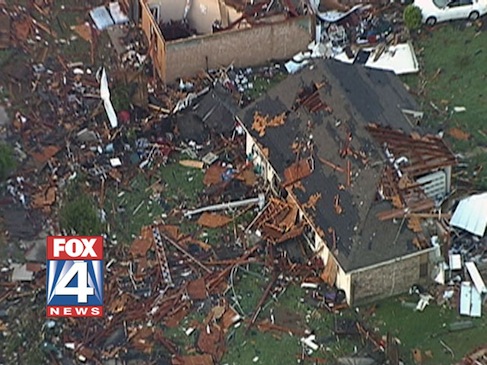 The views from above weren't pretty in tornado-hit areas.
myfoxdfw.com photo
By ED BARK
Tuesday's multiple tornado strikes sprung D-FW's television news providers into non-stop, commercial-free action from early afternoon until the storms subsided by early evening.
As
noted in a previous post
, all involved provided a valuable public service that may well have saved numerous lives. So there'll be no nit-picking here, although it's irresistible to note that of all the weathercasters deployed, only NBC5's David Finfrock and CW33's Rebecca Miller kept their jackets on throughout. Otherwise it was shirtsleeves all around, sure signs that Mother Nature was acting up.
We can be precise, though, on which stations drew the largest audiences during the times the weather attacked. Measurements will be in one-hour increments from 1 to 5 p.m., when all regularly scheduled programming gave way to continuous weather coverage.
We'll only look at the total viewers. The main advertiser target audience for news programming is 25-to-54-year-olds, but there were no commercials during this period. So that particular statistic is basically irrelevant, doubly so in times when everyone's life is of value.
Although CW33 likewise devoted Tuesday afternoon to weather coverage, the station's overall audience never reached even 50,000 D-FW viewers. People just aren't accustomed to CW33 making such an all-out effort. Which meant the station just wasn't a player in the afternoon Nielsens, despite solid work from veteran meteorologists Miller and Bob Goosmann.
Here's how audiences responded to the weather coverage on Fox4, NBC5, WFAA8 and CBS11. Nielsen measurements are only for in-home viewing and do not include workplaces and schools. Still, they're a good barometer for where the eyeballs went.
1 to 2 p.m.
WFAA8 -- 196,449 total viewers
NBC5 -- 155,804
Fox4 -- 149,030
CBS11 -- 101,612
2 to 3 p.m.
WFAA8 -- 311,609
Fox4 -- 291,286
NBC5 -- 237,094
CBS11 -- 162,578
3 to 4 p.m.
WFAA8 -- 386,124
Fox4 -- 331,931
NBC5 -- 230,319
CBS11 -- 196,449
4 to 5 p.m.
WFAA8 -- 325,157
Fox4 -- 298,060
NBC5 -- 250,642
CBS11 -- 169,353
NBC5, WFAA8 and CBS11 all preempted their 5:30 p.m. network newscasts for coverage of the storms' aftermath. WFAA8 again ranked No. 1 in total viewers from 5 to 6:30 p.m., with NBC5 moving up to second place from 5:30 to 6 p.m. but trailing Fox4 in the other two half-hours. CBS11 ran fourth throughout.
WFAA8 and CBS11 both extended their 10 p.m. newscasts to 11 p.m. while NBC5 went until 10:45 p.m. and Fox4 aired
TMZ
in the regular 10:30 p.m. slot after its nightly 90 minutes of local news from 9 to 10:30 p.m. WFAA8 once again had the biggest audience, with NBC5 running second ahead of Fox4 and CBS11. The latter station ran fourth in all time slots for its weather coverage.
Although audiences swelled for Tuesday's weather coverage, the biggest single crowd of the day was for ABC's 8 p.m.
Dancing with the Stars
results show, which drew 460,639 viewers.
Over on ESPN, the Baylor women's basketball team capped an unprecedented 40-0 season in thrashing Notre Dame for the NCAA title. The game, which tipped off at 7:45 p.m., averaged 189,675 viewers.
Earlier Tuesday, a 7 to 9 a.m. showdown between ABC's Katie Couric-hosted
Good Morning America
and NBC's Sarah Palin-hosted
Today
went to Palin by a score of 115,160 to 101,612 viewers, with Fox4's local two hours close behind (94,837).
But among 25-to-54-year-olds, Fox4 narrowly out-pointed runner-up
GMA
, with
Today
just a little behind in third place.
Lastly,
David Letterman's interview with the once again fired Keith Olbermann
drew scant local interest after CBS'
Late Show
got pushed back to 11 p.m. because of weather coverage. The Olbermann portion had just 40,645 total viewers.