WFAA8 basically blows off its sell-off to Gannett
06/14/13 09:11 AM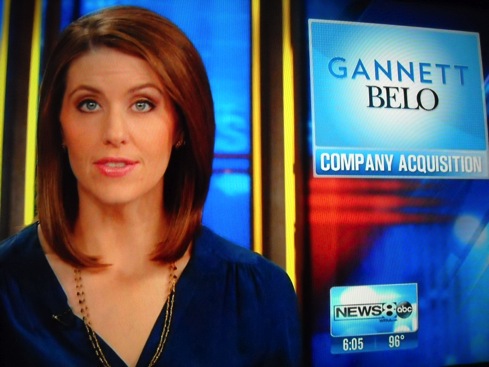 Anchor Shelly Slater delivers news brief on WFAA8 sale. Photo: Ed Bark
By ED BARK
@unclebarkycom
Not all that much was expected. But still . . .
WFAA8's Thursday 6 p.m. newscast devoted all of 21 seconds to the sale of itself and 19 other Belo Corp.-owned television stations.
It followed five other stories at the 6:05 p.m. mark of a newscast that begins a minute or so ahead of the appointed hour in order to get a jump on the competition.
Co-anchor Shelly Slater did the deed, telling viewers that Virginia-based Gannett Co. Inc.'s big buy of Dallas-based WFAA8 and the other Belo TV holdings will create a "broadcast super group" of 43 stations nationwide. That was straight from a joint news release by the two corporations. "The deal should be closed by the end of the year," she said. End of story.
A few minutes later, Curly the missing Fair Park macaw received roughly the same amount of air time. Envision the top-of-the-newscast "team coverage" had this been another major Dallas-based entity selling itself to an outsider. But on WFAA8, no mention was made of the station's 63-year history as a locally owned TV station. Or of the fact that when this deal is done, all of D-FW's major TV news outlets will for the first time ever be owned from afar. WFAA8's principal rivals, Fox4, NBC5 and CBS11, are the properties of their namesake networks.
The purchase of WFAA8 wasn't exactly a blip on the news radar. It set off some seismic shocks locally, with the station's former synergistic pal,
The Dallas Morning News
, devoting two front page stories to the out-of-the-blue deal while
The New York Times
played the story on the front page of its "Business Day" section.
Current WFAA8 employees are being strongly advised not to talk about the sale of their station. But veterans Dale Hansen and Gloria Campos, whom WFAA8 hired as D-FW's first Hispanic anchor, were both willing to comment.
"I think it's another sign from the universe that it's my time to leave," said Campos, who signed an 18-month contract extension in May of last year and is now a WFAA8 part-timer who co-anchors the 10 p.m. newscasts with John McCaa. Her agreement runs through the end of February 2014, at which point Gannett expects to be the FCC-approved new owner of WFAA8.
On her Facebook page, Campos said in part, "I know that many of my co-workers may be worried about the future, but change is part of life and certainly our business has gone through a whirlwind just in the last five years. I work with some of the smartest, most dedicated people in the business. I know excellence is always rewarded . . . It's been a great ride for me and while, yes, I feel a little sad, my heart tells me this sale is a testament to the success we have collectively nurtured and enjoyed, and that is something that should make us VERY proud."
WFAA8 newsroom staffers were informed of the Belo-Gannett deal via email Thursday. No one apparently had any inkling of it.
"I had never ever remotely heard the slightest rumors about any of it," said longtime sports anchor Hansen, who still has three-and-a-half years left on what likely will be his final contract with WFAA8.
"It's much like what's happening in college football," Hansen said of the increasing move to so-called "super conferences" that know no geographical boundaries. "As long as they honor the contract of old, fat, balding sportscasters, I'm fine. It doesn't upset me as much as it might some."
In Hansen's view, any end of an era for WFAA8 came well before Thursday's sale of the station. "I kind of looked at it as the end of an era when Belo went public (in the 1980s). Suddenly we had to answer to the shareholders," he said. (Indeed, the news release tied to Gannett's purchase quoted Belo president and chief executive officer Dunia A. Shive as saying, "This is an outstanding and financially compelling transaction for our shareholders.")
Former WFAA8 stalwarts also weighed in after being contacted by unclebarky.com. As detailed
in a previous post
, the station has a tradition-rich history and a longstanding reputation for excellence in news coverage.
"I spent almost 15 years at WFAA," said Henry Guerrero, who used to co-anchor the station's
La Vida
and
Young Street
programs. "It was an amazing time in my life. I like to believe those who leave find it difficult to duplicate the culture, the passion or the talent created at 606 Young Street."
Former WFAA8 Tracy Rowlett, who established himself as the station's Walter Cronkite during his quarter-century tenure, said the sale to Gannett "obviously was a business decision. I think we've all known for a long time that they've been concerned about their stock price, which has gone anywhere from just a few dollars a share to a few dollars more."
Rowlett was hired in 1974 from an Oklahoma City TV station by Marty Haag, the late news director credited with turning WFAA8 into a news powerhouse both locally and nationally.
"Just about everybody I met who was in any way connected to news knew all about Channel 8," Rowlett said. "It was just a phenomenal thing. And it was wonderful to be part of that. Then they had management changes and it just became another television station over time. But during the halcyon days there was just nothing quite like it."
Troy Dungan, WFAA8's longtime weathercaster until retiring in 2007, said that Thursday's sale was "certainly sad in a way for those of us with a connection to the long and gloried history of Belo broadcasting." But he's also concerned about his pension.
"Personally I still own some Belo stock," Dungan said in an email response. "The sale will be good for me in that regard. What remains to be seen for me and other retired WFAA-TV employees is what happens to Belo's G.B. Dealey Pension Plan. I'm sure I was not the first person to send Dunia Shive an email asking that question."
Former WFAA8 reporter Chris Heinbaugh covered City Hall for the station until resigning in 2007 to become Mayor Tom Leppert's chief of staff.
"I think Gannett is getting a group of stations that are among the best news operations in the country. That wasn't played up that much in the press release," said Heinbaugh, who now is director of external affairs for the AT&T Performing Arts Center. "I hope Gannett continues to let these stations be news leaders. They would be smart to do that. I think the key is, 'Will Gannett let Channel 8 be Channel 8?' It's hard to say. It doesn't look to me like they bought these stations with the idea of coming in to fix them. There's nothing wrong with the Belo stations, so this wasn't like picking up a group of failing news operations."
The Gannett purchase may be more a sign of the times than an upheaval. The overriding idea is that bigger television groups have more leverage and influence in times when profits are at a premium in a far-flung media universe.
"I know there's a lot of gnashing of teeth over these things in newsrooms," Heinbaugh said. "But things are changing and continue to change."
Former WFAA8 anchor Quin Mathews, who also worked for two other TV news operations in D-FW, said that rival stations and networks coveted WFAA8 talent during the Haag era "because the entire news operation did such an outstanding job of covering this market. The WFAA people weren't smarter than the competitors. They had the organization and support of the company."
Mathews, who remains in Dallas as the founder of Quin Mathews Films, said that "WFAA leadership liked to think they were broadcasting to the city's opinion-makers. And they were."
It's anyone's guess -- or opinion -- whether current WFAA8 leadership, headed by president and general manager Mike Devlin and news director Carolyn Mungo, will survive the expected transition to Gannett ownership early next year. And at least five of the sold Belo stations in effect will become subsidiaries in markets where Gannett already owns a TV property.
In St. Louis, for instance, NBC affiliate KSDK-TV is owned by Gannett and CBS affiliate KMOV-TV is owned by Belo. Because of government rules prohibiting ownership of two TV stations in the same market, the Belo stations will be leased under a "shared services arrangement" in which a so-called independent operator runs them while still pooling resources with the existing Gannett-owned stations.
The Dallas Morning News
reported Friday that ex-Belo executive Jack Sander would be the owner and operator of the five stations in markets where both Belo and Gannett cross paths.
The arrangement is similar to those in D-FW between CBS11 and sister station TXA21, and Fox4 and sister station KDFI-TV (MY 27). But there's a big difference, too. Neither TXA21 or KDFI has an existing news operation. Nor are those stations affiliated with a Big Four broadcasting network. The opposite is true in St. Louis and three of the other markets where both Gannett and Belo currently own stations. (In Phoenix, Gannett owns the NBC station while Belo presides over an independent station and a CW network affiliate.)
In the
New York Times
story on the Gannett-Belo deal, the public interest group Free Press slams the pending partnership between the St. Louis NBC and CBS stations.
"This increasing concentration of ownership -- coupled with covert consolidation that combines formerly competing newsrooms -- is failing local communities," Free Press says.
Don't expect to hear any other sides of the story on WFAA8, though. The station's 21-second "coverage" Thursday is testament to that.
Email comments or questions to:
unclebarky@verizon.net