Another Super Bowl in North Texas? Dream on
02/02/11 03:18 PM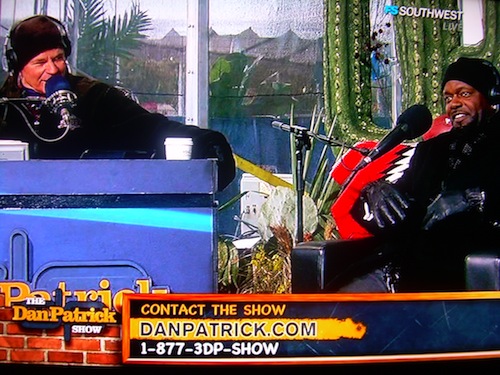 Dan Patrick and guest Emmitt Smith chill out in Victory Park Wednesday during his show on Fox Sports Southwest. Photos: Ed Bark
By ED BARK
Jerry Jones can keep smiling all he wants through his pearly veneers. But naw, the Super Bowl won't be returning to North Texas anytime soon -- if ever.
You can't control the weather, but you can control the site of the NFL's crown jewel. And as the party and event cancellations pile up, this much is all the more glaringly clear. Dallas and environs have neither the scenic beauty or communal, festive gathering spots of competing big cities.
Yeah, New Orleans is unseasonably cold right now, too. But Bourbon Street cures a lot of ills. New York could be snowy and icy, too, when Super Bowl XLVIII touches down in 2014. But I'll take Manhattan. In both instances, the sights, sounds, bars and restaurants are tourist attractions in themselves, regardless of whether the cities are hosting a Super Bowl or a majorette competition.
The game itself could and should be great within the climate-controlled confines of Jerry's Palace. That's not the problem. And ideal weather of course would take a lot of the edge off the comparatively nondescript venues available for all those grossly over-priced parties. But when the weather is frigid, where do Super Bowl visitors go to gather -- other than hotel lobbies?
Fort Worth's Sundance Square could have shone brightly were this week's weather not so frightful. But instead it's become a venue for the frozen chosen, with outdoor shows on ESPN affording hosts and guests the opportunity to see their breath before them as they otherwise bundle up and look like snowmobile drivers. On Thursday, the
Mike and Mike
morning show finally retreated indoors.
Over at Victory Park, Dan Patrick and his guests also have been reluctant cold warriors, with former Dallas Cowboys running back Emmitt Smith carping about the sub-freezing temps during his Wednesday appearance.
The Super Bowl buildup has become more important than ever over the years. And in North Texas, that buildup is pretty much laying an egg. It's why you won't see another one of 'em in previous venues such as Minneapolis, Detroit and even Atlanta. Cold weather is too big a risk -- and the Mall of America or a trip to an auto plant is not enough of an enticement.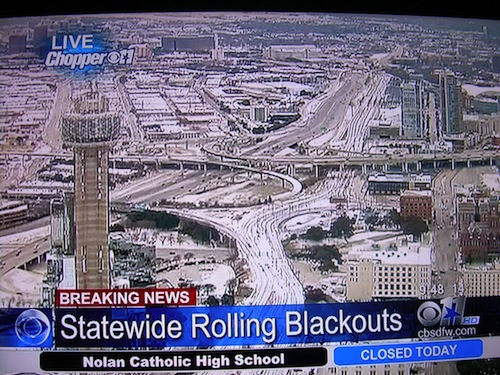 And oh yeah, rolling blackouts. Those can be real party poopers -- and North Texas has got 'em. In addition to icy roads, below-freezing temperatures and sub-zero wind chills for at least another day or two.
Maybe the Man Upstairs has looked down on Jerry and said, "Ya know something, I really don't like what that guy represents. Let's give him the polar opposite of manna from heaven."
It's a shame for all the volunteers and civic boosters and other people who have worked very hard to bring Super Bowl XLV to these parts. But you know what? It just isn't gonna work, no matter how much power Jerry wields among the NFL's fellow owners. Chances of landing Super Bowl L (50) in Dallas -- a big dream of Jerry's -- are getting to be about as likely as the Cowboys playing in it. That is, unless they get a new owner.
In truth, there isn't a player, a coach, a celebrity or a fan who wouldn't rather be in South Beach right now. Or in the French Quarter. Or strolling along Venice Beach to see both the ocean and all the attendant crazy 'n' colorful people.
Jerry says it's better this way, though. Get the crappy weather out of the way and wind up with a nice Super Bowl Sunday in which temperatures are predicted to be in the 50s. Yeah, that'll be nice for him and his palace. But in the interim, North Texas is no place to be. The NFL will take note of this -- and won't get fooled again.