TCM vs. HDNet Movies: there's no comparison
06/05/08 02:52 PM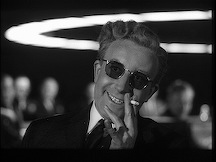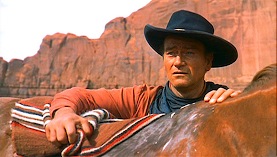 Peter Sellers in Dr. Strangelove; John Wayne in The Searchers.
By ED BARK
Maybe Mark Cuban should consider throwing some of his Mavs mad money at his most underpublicized asset -- HDNet Movies.
He should do so quickly, while Turner Classic Movies remains in the old analog mode.
TCM inevitably will make the transition to high-definition. But it hasn't done so yet, giving HDNet a candy-coated opportunity to position itself as television's best venue for quality, commercial-free movies presented in all their crystal-clear, wide-screen glory.
As a relatively new owner of an HD set, I'm amazed at the attractions available on
HDNet Movies
. Cuban's got some clinkers to be sure. But on this weekend alone (June 6-8), you could watch these very worthy films:
***
Dr. Strangelove or: How I Learned to Stop Worrying and Love the Bomb
***
The Searchers
***
Thelma & Louise
***
The Sting
***
The Bridge on the River Kwai
***
Dirty Harry
***
Amadeus
***
Harper
***
Groundhog Day
***
The Outlaw Josey Wales
The upcoming June menu also includes
Easy Rider; Days of Wine and Roses; Badlands; Cool Hand Luke; Spartacus; Places In the Heart; Apollo 13; A Passage to India; Serpico; Splendor In the Grass; Prince of the City; The Music Man
and Steve McQueen's last movie,
Tom Horn
.
That's a roster that rivals anything TCM has to offer. But the big difference maker is HD, which makes these movies come alive anew no matter what their vintage. On TCM these same movies look as though they're shot through a Vaseline jar. It's all in the eye of the beholder, and if you have HD your eyes can quickly get spoiled.
Cuban should take advantage of this competitive edge by sinking some hard cash into a showy commercial campaign spread across at least a dozen or so cable networks. It's an optimum time to spike demand and drive traffic to HDNet movies. This is a great, but still largely undiscovered venue for both old and new generations of film buffs.
For now, though, what we have here is a failure to communicate.