Long time, no thoughts: there's still a hush over Cuban's blog
07/04/11 01:34 PM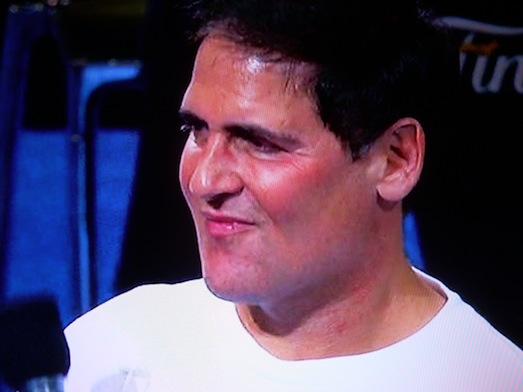 Mark Cuban also was at a loss for words during AAC celebration.
Photo: Ed Bark
By ED BARK
A lot of people talked about Mark Cuban's vow of silence during the Dallas Mavericks' run to their first NBA championship.
He stifled himself all the way from April 16th -- the Mavericks' first postseason game against Portland -- until June 12th, when Dallas punched out the Miami Heat on their home court to win the NBA Finals.
Cuban has a longer drought still in progress, though. His
blogmaverick.com
website hasn't had any activity since way back on April 12th, when Cuban posted his thoughts on "How Netflix is Hurting Youtube." He generally has something to say -- usually at length -- every two weeks or so.
So what's up? Has Cuban become bored with blogging, perhaps determining that it's as old-school as NBA championship rings? Is he looking for new forums? Has he decided to limit himself to
tweeting
, where on July 2nd he urged his more than half-million followers to check out a video of him celebrating in San Francisco?
Unclebarky.com asked the man himself, via horse-and-buggy email.
"Just taking a break," Cuban replied.
Well, all righty then.
***
An open casting call for CBS'
The Amazing Race
is being hosted by CBS11 on Friday, July 15th from 2 to 7 p.m. The venue is the Irving Arts Center, 3333 North MacArthr Blvd. in Irving. For more information on what you need to do,
go here
.
***
Also on CBS11, 12-year-old Neil Patel of Plano will be a
Jeopardy!
contestant on the Thursday, July 7th edition. Air time is 11 a.m. It's all part of the show's summertime "Kids Week," starring 15 of the nation's brightest 10-to-12-year-olds.