Local Nielsen ratings snapshot (Tues., Oct. 11) -- Rangers near the million mark while otherwise thrown for a loss
10/12/11 12:18 PM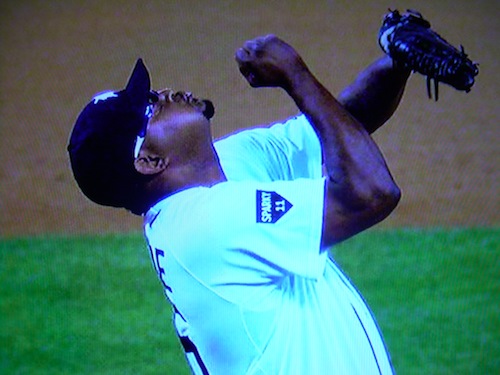 Closer "Papa Grande" gets off after 5-2 Tiger win. Photo: Ed Bark
By ED BARK
Game 3 of the Texas Rangers-Detroit Tigers ALCS hit a high point to date on the ratings scorecard while otherwise resulting in the North Texas 9's first loss in the best-of-seven portal to the World Series.
Detroit won 5-2 while 948,375 D-FW viewers tuned to Fox Tuesday night for a game that ran from 7:06 to 10:14 p.m. The audience peaked between 8:45 and 9 p.m., when 1,104,178 watched.
Nothing else came close, including the two-episode premiere of Tim Allen's
Last Man Standing
on ABC. Episode 1 drew just 139,546 viewers from 7 to 7:30 p.m., beating only the first half-hour of NBC's
The Biggest Loser
(97,547 viewers). The second half-hour of
Last Man Standing
inched up to 148,353 viewers, also beating only
Loser
.
CBS'
NCIS
had 365,801 viewers in the 7 p.m. hour, making it the night's most-watched non-baseball attraction. ABC's
Dancing with the Stars
results show and
Body of Proof
were tops from 8 to 10 p.m. in the non-sports field. TXA21's 7 p.m. local newscast, in its death rattle before being replaced later this month with a sports hour, had nothing to show but "hashmarks" (no measurable audience).
And now for Tuesday's local news derby results. WFAA8 swept a downsized three-way 10 p.m. race, winning in total viewers and 25-to-54-year-olds, the prime advertiser target audience for news programming.
Fox4 and NBC5 tied for the total viewers gold at 6 a.m., with Fox4 as usual controlling the 25-to-54 demographic.
A locally produced Fox4 baseball warmup show ran the table at 6 p.m. The 5 p.m. firsts were split between NBC5 in total viewers and Fox4 among 25-to-54-year-olds.