Local Nielsen ratings snapshot (Mon., May 2) -- Mavs light up late night numbers with pulse-pounding win over Lakers
05/03/11 12:27 PM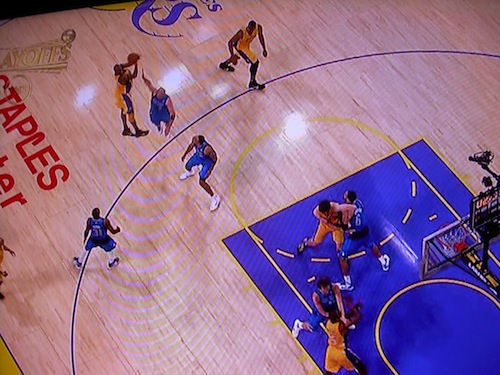 Whew. Kobe's last-second 3-pointer failed to fall. Photo: Ed Bark
By ED BARK
The Dallas Mavericks' down-to-the-wire win against the Los Angeles Lakers in Game 1 of their playoff series made the late-night ratings sizzle for TNT.
Starting at 9:53 p.m. Monday and ending at 12:16 a.m. Tuesday, the comeback 96-94 victory averaged a big-time 450,171 D-FW viewers.
Only ABC's 7 to 9 p.m. performance edition of
Dancing with the Stars
lured a bigger crowd with 484,799 viewers. But Mavs-Lakers reigned with advertiser-coveted 18-to-49-year-olds, drawing 243,504 viewers in this age range compared to
Dancing
's 187,564.
ABC's
Castle
continued to flex at 9 p.m., handily beating CBS'
Hawaii Five-0
in both total viewers and 18-to-49-year-olds, where the picturesque CBS cop drama fell to third place behind Fox4's competing local newscast.
The big lead-in audience from
Castle
helped WFAA8 to record its first 10 p.m. newscast wins on Day 3 of the May "sweeps." The station placed first in total viewers and 25-to-54-year-olds (the main advertiser target audience for news programming), with arch rival CBS11 second in both measurements.
Fox4 likewise ran the table at 6 a.m. golds, with WFAA8 vaulting to second place among 25-to-54-year-olds ahead of NBC5.
The 6 p.m. local news numbers basically were inoperative due to expanded 5:30 p.m. network newscast editions tied to the killing of Osama bin Laden. At 5 p.m., WFAA8 had the most total viewers while Fox4 won among 25-to-54-year-olds.