New KERA13 documentary is wholly Trinity -- circa '60s/'70s
11/23/09 08:21 AM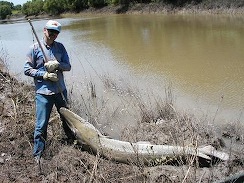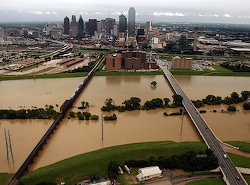 The Trinity River has alligator gar and endless possibilities.
By ED BARK
The Trinity Killer is still at large on Showtime's
Dexter
, but presumably will be disposed of by season's end.
The Trinity River still looms large, as it has for generations and generations to come.
Dallas-based KERA13's
Living with the Trinity
, premiering
Monday, Nov. 23rd at 9 p.m. central
, does not re-dredge the stormy pros and cons of a nine-mile tollway to be built over the storied river while it's simultaneously being redeveloped into the country's largest urban park.
Filmmaker Rob Tranchin's instructive one-hour documentary instead winds back to the mid-1960s, when the flood-prone, twisty-turny Trinity was to be straightened into a barge canal running all the way from North Texas to the Gulf of Mexico.
Texas congressman Jim Wright, later to become Speaker of the House, spearheaded the project after persuading Congress to approve nearly $1 billion in funding. Wright, 86 and a survivor of tongue cancer, contributes a new interview for
Living with the Trinity
. He's visually worse for wear but still lucid.
The "canalization" of the Trinity eventually went under after voters in 17 counties narrowly rejected additional funding in a 1973 bond referendum. By that time, a counter-offensive had been mounted by C.O.S.T. (Citizens Organization for a Sound Trinity), whose champions included newly elected Republican congressman Alan Steelman, a telegenic Dallas businessman.
Steelman, also interviewed anew for the documentary, had upset crusty Democratic incumbent Earle Cabell, a proponent of the massive Trinity makeover. Although his future seemed bright, Steelman dropped out of politics after failing to unseat Lloyd Bentsen in the 1976 U.S. Senate race.
Living with the Trinity
does a nice job of gathering archival footage and re-telling a story that already seems like ancient history. It's a balanced look at both sides of a then very volatile argument. And if you stick around until the end, you'll also get an eye-opening, current-day look at an imposing alligator gar fished out of the Trinity by gleeful sportsmen.
Wright still believes in his long-ago pet project, but says in retrospect, "If the people didn't want it, we didn't want it." The Trinity has no real say in any of this. It just keeps rolling along.
KERA also has a companion web site,
TrinityRiverTexas.org
, which will post
Living With the Trinity
after broadcast and already houses last week's radio series,
Banking with the Trinity
.
GRADE:
B+