Local Nielsen ratings snapshot (Wed., Sept. 9) -- Obama health care speech tangles with season launch of Fox's Dance
09/10/09 10:55 AM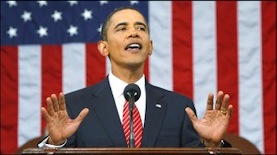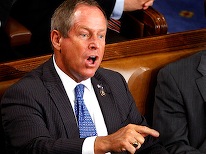 President Obama's speech to Congress on health care reform drew a "You lie!" retort from South Carolina Republican Rep. Joe Wilson. NBCdfw.com later headlined it, "Rude Dude's Obama Interlude." Oh how far we've evolved since learning to walk upright. Getty Images
By ED BARK
It turned out to be quite a night in TV land.
President Obama's 7 p.m. speech to Congress on health care reform went opposite the fall season premiere of Fox's
So You Think You Can Dance
while the official Republican response battled the opening minutes of Fox's heavily promoted
Glee
.
The unofficial GOP response came during the speech itself, when Rep. Joe Wilson of South Carolina bellowed, "You lie!" after Obama said that his bill does not include benefits for illegal immigrants. What a country.
Overall, the speech and two Republican responses stretched to 8:11 p.m., giving
Glee
a head start on a new results edition of NBC's summertime juggernaut,
America's Got Talent
. Here's how it played out in the D-FW Nielsen ratings.
So You Think You Can Dance
had 146,146 total viewers, outdrawing the audience for any single network covering the president's speech.
Dance
also won from 7 to 8 p.m. among advertiser-coveted 18-to-49-year-olds.
Here's the total viewers count -- network by network -- for Obama's speech:
NBC
-- 139,503
ABC
-- 132,860
Fox News Channel
-- 106,288
CBS
-- 79,716
CNN
-- 59,787
MSNBC
-- 33,215
PBS
-- 13,286
The 8 to 8:11 p.m. runover mostly was devoted to brief network analysis and the official Republican response from Rep. Charles Boustany of Louisiana. Nielsen measures in 15-minute increments, and in that time frame
Glee
had 152,789 total viewers to run third behind NBC and ABC.
Glee
averaged 119,574 viewers overall, beating only a repeat of ABC's
Wipeout
among the Big Four broadcast networks. It fared the same with 18-to-49-year-olds.
In local news derby results, only Fox4 and NBC5 started at the appointed 10 p.m. hour, with Fox4 edging the Peacock in total viewers and winning by a comfy margin among 25-to-54-year-olds, the main advertiser target audience for news programming.
Fox4 also prospered at 6 a.m., tying NBC5 for the lead in total viewers while winning by a relatively wide margin with 25-to-54-year-olds.
The evening news golds were split. WFAA8 won at both 5 and 6 p.m. in total viewers but Fox4 ran the table at those hours in the 25-to-54 demographic.