A bright 'n' chuckly debut for NBC5 early morning newcomer Mark Hayes
05/07/12 09:52 AM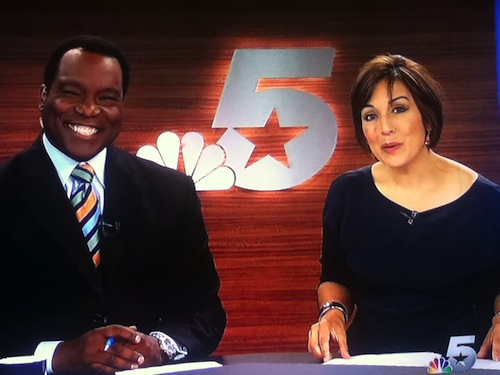 New NBC5 early morning anchor Mark Hayes and incumbent Deborah Ferguson made their on-air debut together Monday. Photo: Ed Bark
By ED BARK
@unclebarkycom
The man can chuckle.
Locked in a tight early morning May "sweeps" ratings race with Fox4 and WFAA8, Fort Worth-based NBC5 unveiled the newest member of its dawn patrol Monday. Mark Hayes, a 10-year veteran of the waker-upper wars at WAGA-TV in Atlanta, had no problem being personable. He laughed early and often, both at his own remarks and those of others.
"I am
so
happy to be here," Hayes told seemingly entrenched incumbent Deborah Ferguson, who recently signed a new contract with NBC5. "And so happy to be in the land of brisket and football and all the things that I love."
NBC5, which twice had declined to disclose a start-up date for Hayes, continues to look for a new early morning meteorologist to replace Jennifer Lopez, who parted ways with the station after a nearly four-year tenure. Staffer Samantha Davies, who also would like to have the job, is still dispensing highs and lows in Lopez's absence.
On Monday's edition, Hayes and Davies bantered a bit about Monday's "hot and sticky" forecast. He should be used to humidity, coming from Atlanta, she told him.
"I've heard a little somethin' about that
hum
-a-did-ity," Hayes cracked. He then chuckled hard.
During a getting-to-know you segment in the 6 a.m. hour, Hayes said that he once played football at the University of Texas-El Paso before finishing his undergrad work at Howard University.
Ferguson said he looked good in a football uniform before Hayes noted, "That was 50 or 60 pounds ago. I would love to go back to my fightin' weight."
He laughed anew, with Ferguson unable to resist adding, "He has such a devilish look in his eyes. And that little twinkle. But you don't come alone."
No, he doesn't. Hayes noted that he and his "better half," wife LaTonya, will be celebrating their 20th anniversary in October. Viewers were shown a picture of the beaming couple before Ferguson dutifully read a laud from "The Boss," (vice president of news Susan Tully) from the April 13th publicity release announcing Hayes' hiring.
"He has a warm delivery and makes the early wake-up just a little more enjoyable," Tully said.
Hayes indeed does seem to have a winning, outsized personality that might wear as well here in time as it apparently did in Atlanta. His sense of humor is further underscored by his Twitter handle,
@MORNING MANIAC
, which he promoted at the end of Monday's show.
"First day on the JOB -- whoo hoo--yo Dave we had a blast--i was a bundle of nerves but my partnr rox!!" Hayes tweeted Monday.
Hayes' debut, and the continued presence of Keith Garvin as co-anchor of CBS11's early morning newscasts, mark another breakthrough in D-FW television news. It's the first time that two African-American male anchors are helping to bring early risers their first news of the day in a market where all four major TV news providers -- Fox4, NBC5, WFAA8 and CBS11 -- now have female news directors with the recent hiring of Carolyn Mungo at WFAA8.
***
NBC5 early morning reporter Kendra Lyn briefly forgot her new news handle Monday during one of her live Deion and Pilar Sanders "Divorce Drama" dispatches from outside the Collin County Courthouse.
"Kendar Oes . . . or Kendra Lyn. Back to you," she said.
Lyn arrived earlier this year from WESH-TV in Orlando, where she was known as Kendra Oestrich.