Heavy wind, rain, hail blow out parts of Tuesday's prime-time lineup
02/11/09 07:07 AM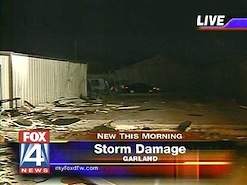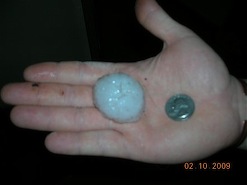 Weather ramifications pictured on the Fox4 and WFAA8 Web sites.
By ED BARK
Severe and sometimes damaging weather swept through the D-FW viewing area Tuesday night, prompting WFAA8 and CBS11 to wipe out their 9 p.m. network programming as the storms hit Dallas County.
It was no big loss for WFAA8, which coughed up an episode of the ratings-starved ABC reality series
True Beauty
. CBS11 on the other hand sacrificed a new episode of
Without A Trace
.
Fox4 had its regularly scheduled 9 p.m. local newscast in play, but NBC5 restricted its weather coverage to updates during commercial breaks from
Dateline
's exclusive interview with so-called "octo-mom" Nadya Suleman. Wouldn't want to miss that. Or would we?
WFAA8 had the most vivid coverage, particularly when its HD Chopper 8 and pilot Troy Bush hovered live over some badly damaged homes in Colleyville. As previously posted, Fox4, NBC5 and CBS11 all
grounded their in-house pilots
in early January.
The three stations now rely on lease arrangements with Garland-based Sky Helicopters, Inc., and none had overhead pictures of the Colleyville damage during prime-time and late night TV coverage Tuesday. Their ground-level reports couldn't match the big picture power of WFAA8's Bush-narrated chopper pics, although the station milked them perhaps more than necessary before signing off at 11:06 p.m. after preempting ABC's
Nightline
.
NBC5 not only left
Dateline
in place, but went to NBC's
Tonight Show
at the usual 10:35 p.m. time. Fox4 waited until about 10:39 p.m. to yield to
TMZ
, which usually starts at 10:30 p.m. And CBS11 went 10 minutes late to
Late Show with David Letterman
, which nonetheless aired in its entirety.
All of the stations' weathermen got down to their hard-workin' shirtsleeves, save for Fox4's Dan Henry, who remained tightly buttoned in a dark blue suitcoat.
NBC5 went without signature meteorologist David Finfrock, leaving its angry looking weather maps in the hands of Steve MacLaughlin and James Aydelott, who's scheduled to take a
new post later this month
as the featured forecaster at KOKI-TV, Tulsa's Fox affiliate.
WFAA8 weatherman Pete Delkus went it alone as usual while CBS11's Larry Mowry occasionally used Kristine Kahanek as his wingwoman. Longtime meteorologist Ron Jackson chipped in on Fox4. Rebecca Miller and Bob Goosmann tag-teamed over on The 33.
The pinpoint accuracy of today's weather technology sometimes still amazes. At 9:57 p.m., for instance, Delkus told viewers that the night's heavy rain and wind were "now in Garland and Richardson. Let's zoom in there."
Just as he said this, the bad weather indeed swooped in on unclebarky.com central in Garland, sending Snickers the cat scurrying for her usual cover. But as with most areas, it came and went in a pretty big hurry.
WFAA8 reporter Gary Reaves, wearing a wet suit in downtown Dallas, had the line of the night.
"I'll stand out here through pea size," he said of the hail beginning to fall. "We start getting quarter and half dollar, I'm gonna bail."
Knowing when to bail out or cut in is invariably a tough call on nights such as these. Severe weather builds newscast ratings, as has been noted often in these spaces. But when a station preempts a prime-time network program, the coverage invariably is commercial-free.
So whatever audience they drew -- we'll get those details to you when they're available -- Tuesday's 9 to 10 p.m. weather-athons on WFAA8 and CBS11 weren't moneymakers. They were brand-builders, though. And even the sourest among us might concede that the public interest also was served on a fairly scary night.