Fox's Dallas-made Lone Star gets gunned down
09/28/10 05:35 PM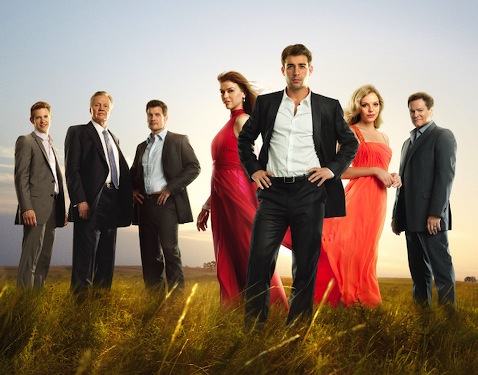 By ED BARK
Over and out. Fox's
Lone Star
is no longer among us. It was officially canceled early Tuesday evening, to be replaced on Monday, Oct. 4th by the premature season premiere of
Lie to Me
, which initially was set to return on Nov. 10 in a Wednesday, 7 p.m. (central) time slot.
Lone Star
, filmed in North Texas, received some of the best reviews -- and worst ratings -- of any drama series in Fox's history. It premiered on Monday, Sept. 20th, and was buried both locally and nationally in the almighty Nielsen ratings.
Fox put a second episode into play on Sept. 27th, but the ratings were even worse in a murderous time slot also populated by ABC's
Dancing with the Stars
, CBS'
Two and a Half Men
and NBC's new
The Event
.
In D-FW, the second episode drew a sub-measly 69,257 viewers, less than one-third the audience of any of the three broadcast series scheduled against it. The second hour of
Dancing with the Stars
in comparison had 630,239 viewers. You might say that's a mismatch.
There's always a chance, although probably a scant one, that some other network will pick up the remaining episodes of
Lone Star
. But with just 3.2 million viewers nationally for Episode 2, the emphasis is on scant.
"It's a shame, but this one just wasn't apparently meant to be," Dallas Film Commission head Janis Burklund said in an email response Tuesday. "It doesn't sound like there is much hope for cable either. It's a more expensive show than typical cable budgets."
Burklund said that actors and crew were at work on Episode 6 of an original 13-episode order when the plug was pulled.
"Average local spending is likely around $1 million per episode, so that would mean approximately $7 million is not going to come in as earlier anticipated," she said.
Other potential TV pilots are "looking our way, however," Burklund added. "So the crew on
Lone Star
should grab some needed rest quickly and get prepared to go back to work pretty soon if things work out like we hope they will."
Fox's other made-in-North Texas series,
The Good Guys
, remains on a respirator. Its fall premiere, after a ratings-starved summer run, had only 2.8 million viewers in a Friday, 8 p.m. time slot. In comparison, the 9 p.m. premiere of Tom Selleck's new
Blue Bloods
cop drama had 12.8 million viewers. And directly opposite
Good Guys
, the season premiere of CBS'
CSI: NY
had 10.3 million viewers.