CBS11 reporter Bud Gillett files sharply worded reverse discrimination suit against his station (updated)
07/23/09 02:40 PM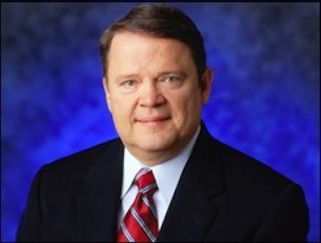 By ED BARK
Veteran CBS11 reporter Bud Gillett, via a sharply worded lawsuit filed Tuesday in Dallas County District Court, has charged the station with retaliation and reverse discrimination based on his age, sex, race and national origin.
Gillett, who is 60, joined CBS11 in September 2001 after a long career as a street reporter at Dallas-based KDFW-TV (Channel 4). As of this writing, he remains employed at CBS11 (KTVT), with his picture and biography still in place on the station's
cbs11tv.com
website. The lawsuit says that Gillett has a "strong desire" to remain with CBS11 and to "grow in his career." But a long-term future may not be in the cards given the blunt charges he's made against station management.
In an 11-page suit filed by his attorney,
Hal K. Gillespie,
Gillett alleges that he has been systematically shunted to weekends (he currently works a Thursday through Monday schedule), repeatedly bypassed for promotion and denied a spot on the station's late night newscasts. Meanwhile, minorities and far less-experienced reporters routinely have been promoted ahead of him, the lawsuit alleges.
"The 10:00 PM newscast is the newscast of record in Dallas-Fort Worth," the lawsuit says. "To compete at the top level, a reporter needs to provide stories for the 10:00 PM broadcast. Just as there is more than one way to skin a cat, management in the news business can put an older, white, male, born-in-the U.S.A. reporter out to pasture and in a dead end career by locking him into an unfavorable schedule. Defendants have deliberately done this to Gillett."
Of CBS11's five principal 10 p.m. reporters, three are middle-aged white men (J.D. Miles, Jay Gormley, Jack Fink) and two are women over 40 years of age (Carol Cavazos and Katherine Blake). Stephanie Lucero, who is over 50, also is a regular contributor.
CBS11 president and general manager Steve Mauldin said Thursday morning, "I really can't comment on it right now." But he said an official response was being prepared for release later Thursday. Here's the CBS11 statement: "This lawsuit is completely unfounded and we intend to fight it vigorously."
Gillett, named as Wayne "Bud" A. Gillett, Jr. in the suit, has not returned a phone call and email asking for further comment. But his lawsuit is unequivocal in its claims that "defendants have locked Gillett into an unfavorable schedule and afforded him modest exposure and lack of promotion, all on account of his age, sex, national origin and gender."
While Gillett is the only full-time contracted reporter working both Saturdays and Sundays, CBS11 has assigned "superior schedules to similarly situated employees who are younger, female, Hispanic, or of foreign origin," the lawsuit contends. "Defendants have a pattern of giving preferred assignments to younger, female employees and less preferable work to older employees."
The lawsuit names names, contending that CBS11 reporters Cavazos, Lucero (who also was a colleague of Gillett's at KDFW-TV), Marianne Martinez, Arezow Doost and Selena Hernandez have all been given better work schedules and more visibility than the plaintiff.
When Gillett sought to improve his schedule, he was "ignored" and in one instance, dismissed as "bitter," his lawsuit charges.
"It sounds as if he's filed a lawsuit just because he doesn't want to work weekends," said a local television executive who has seen the lawsuit and requested anonymity. "If this went to trial and he won, what would that do to the rest of the industry?"
The executive also wondered how Gillett's minority and women colleagues would react to the lawsuit, and whether they'd be comfortable working with him.
In December of last year, Gillett filed a charge of discrimination with the Civil Rights Division of the Texas Workforce Commission. He then tried to meet with management to "resolve the issue" before any lawsuit was filed, according to companion documents sent to unclebarky.com by attorney Gillespie.
"Management would not even meet with Bud to discuss his issues," Gillespie said in an email.
Gillespie also represented Scott Sams, currently the co-anchor of CBS11's early morning newscasts, in his discrimination lawsuit against WFAA8 after he was dropped by the Dallas-based station in 2004. Sams eventually received $600,000 in back pay, damages and attorneys' fees, although both sides claimed victory.
Gillett's lawsuit says he is seeking a Monday through Friday work schedule at CBS11 plus compensatory, punitive and economic damages, and attorneys' fees.
He is described in the lawsuit as an award-winning reporter whose career and dignity have been compromised "despite his great experience and strong work ethic."
His own station's website bio begins with a testament to his durability, describing Gillett as "the most veteran reporter at CBS11 News with 33 years in major market television news, the last 26 years working the streets of Dallas/Fort Worth."