Pet Sounds: NBC5/Telemundo39's annual "Clear the Shelters" campaign is this Saturday (July 23rd)
07/21/16 03:13 PM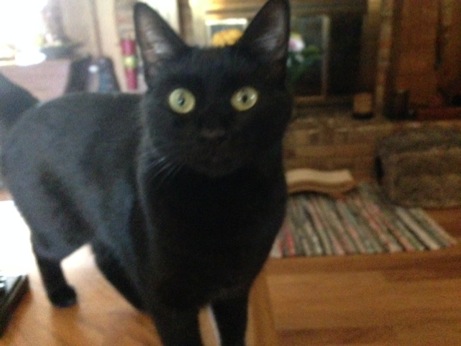 Former shelter kitty Bella Bark enthusiastically endorses NBC5's third annual pet adoption drive. "I never knew I could have a life like this," she says in a statement. Her elderly "sister," Snickers, likewise an ex-shelter resident, joins in championing this worthy effort. "I'm firmly on board," she said before resuming her nap. Photo: Ed Bark
By ED BARK
@unclebarkycom on Twitter
D-FW television stations sponsor all sorts of community initiatives. One of the very worthiest is NBC5/Telemundo39's "Clear the Shelters" pet adoption drive, which will be on
Saturday, July 23rd.
On that day, more than 65 North Texas animal shelters will offer no-cost adoptions. Hours are from 10 a.m. to 5 p.m.
The Fort Worth-based station began this campaign in 2014 in partnership with the Irving Animal Shelter. Since 2015, all NBC Universal-owned TV stations are participating.
For a complete list of area animal shelters involved in this year's effort,
go here
. (You can use the interactive map to click on blue dots to identify the shelter nearest you.)
Email comments or questions to:
unclebarky@verizon.net