Guy and dolls
01/23/08 07:49 AM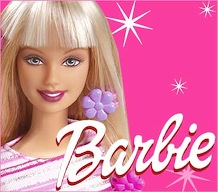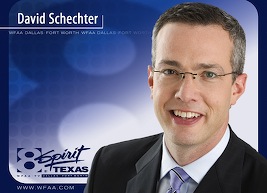 By ED BARK
Belo8 reporter David Schechter has resumed playing with his Barbie dolls.
What he does on his own time is his business. But Schechter's doll houses are his station's newscasts. On Tuesday's 6 p.m. edition,
Schechter's story
on the ongoing economic downturn began like this: "Talk of recession is almost everywhere. So it seems like a good time to check in with 'Coffee shop Barbie.' How would the recession affect her?"
Of course. Who else would you check in with? So there stood a blonde, blue-eyed Barbie in a blue, sparkling, off the shoulder cocktail dress, with a coffee machine as her backdrop.
This isn't the way Walter Cronkite, Tom Brokaw, Peter Jennings or even Geraldo Rivera got started. But this isn't your old G.I. Joe's newscast either. In today's TV news firmament you've gotta stand out, hook the viewer, get 'em talking and maybe even prompt TV critics to get all huffy and indignant. So the puckish Schechter is a rising star at Belo8, continuing in the fine tradition of veteran Brad Watson, who induced Barbie dolls into the 2006 Texas gubernatorial campaign as a way of simplifying the issues to voters.
Schechter, who's used Barbie as a prop before, said that she "might notice her customers ordering fewer $3.50 lattes and more $1.50 black coffees. As a result, her boss might be forced to cut back on Barbie's overtime and her chances at a promotion."
Mr. Rogers couldn't have said it better. And Schechter also roped in SMU economics professor Mike Davis, a presumably grown man who played along in the interests of making his university proud.
"Even if Barbie's still got a job, she's gonna be worried," Davis intoned. "And she might say, 'Well, instead of going out and having a big ol' night on the town, I'm just gonna go grab a six-pack and meet Ken back at my place.' "
The piece ended with Barbie forsaking her favored champagne for a bottle of Bud Light after Schechter had her racing to a hot spot in her miniature convertible.
Anchor Gloria Campos then noted that Barbie was "lookin' good" in the outfit Schechter had selected for her. Desk mate Jeff Brady chimed, "Well, yeah. You can tell a lot from Barbie, as we know now. She's got a track record for explaining things here."
Alas, that's all too true. But why stop with Barbie when there are so many other toys being neglected? Maybe an entire Belo8 newscast could be a veritable Pee-wee's Playhouse.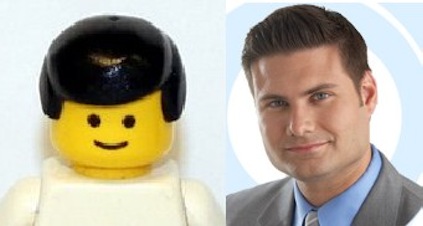 Separated at birth? Lego man and Belo8 reporter Craig Civale
Build a replica of City Hall out of Legos and let one of its signature characters stand in for reporter Craig Civale. Build Dale Hansen's rustic birthplace with Lincoln Logs. Illustrate rush hour traffic with dozens of Tonka toys. Construct Pete Delkus's weather maps out of Play-Doh. And let Schechter go ape with the Fisher Price collection. There's no telling what he might accomplish in a bigger sandbox.
Seriously, though, what's gotten into Belo8? It has a storied reputation and dozens of prestigious national awards in its trophy case. So how about stopping this nonsense before someone gets the bright idea to do an Etch-a-Sketch version of a big murder trial.
Meanwhile, in the grownup division . . .
Belo8 investigator Brett Shipp's
gutty stories
on South Oak Cliff High School's grade-changing scheme will result in the forfeit of its 2006 state basketball championship.
Shipp topped Tuesday's 10 p.m. newscast with that revelation, set to be officially announced on Wednesday. The dogged reporter undoubtedly has and will take major heat over this. But in the end he had the goods, and his reporting has stood up.
Frontburner.com
, for one, at least owes this a mention after initially encouraging its readers to believe that this was a "shabby example of gotcha journalism." Fair is fair.
Addendum:
FrontBurner
made restitution
-- sort of -- an hour or so after this post.