Sweet? Jerry "Mr. Peppermint" Haynes will be the latest former WFAA8 star to be profiled on CBS11
05/06/11 11:34 AM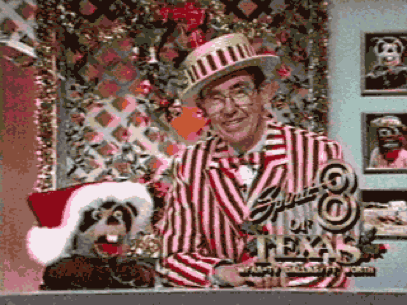 By ED BARK
CBS11 is going to the WFAA8 vault again for another ratings "sweeps" feature on one of its arch rival's former stars.
Friday's 10 p.m. (May 6th) newscast on the D-FW station will include an interview with Jerry "Mr. Peppermint" Haynes, WFAA8's longtime children's show maestro. During the February "sweeps," CBS11 offered a two-part reunion/reprise of anchor Tracy Rowlett and weathercaster Troy Dungan, both of whom earlier had generation-spanning careers at WFAA8.
Dungan said that his new favorite TV weatherman is CBS11's Larry Mowry. That rubbed a number of people raw at WFAA8, but no one will comment on the record.
Lori Conrad, the station's director of communications, confirmed that Haynes, now 83, will be part of the CBS11 family for one night at least.
"Very nice interview -- in full Mr. Peppermint regalia I might add," she said via email. "Complete suit, hat and cane. Viewers will find out where he got the idea for his signature suit and where his career took him after
Peppermint Place
. And on a very different note, hear what he did after he heard the shots that killed President Kennedy. He was downtown that day."
As readily available clips on youtube show, Haynes rushed to WFAA8 studios to report live in tandem with the station's program director at that time, Jay Watson.
Haynes also had a gainful career as an actor during his years as Mr. Peppermint. He played a wide variety of small parts in both feature films and made-for-TV movies, with credits ranging from a minister role in TV's
Peyton Place: The Next Generation
to the part of Deputy Jack Driscoll in
Places In the Heart
, which won Sally Field her second best actress Oscar.
Haynes played Mr. Peppermint from 1961-'69 and then again from 1975-'96. He's still hanging in there, with a 2009 credit as "Stringerman" in the movie
Balls Out: Gary the Tennis Coach
, which co-starred Seann William Scott (Steve Stifler in the
American Pie
movies) and Randy Quaid.