Escape to L.A.? Prison Break plotting to vacate North Texas if and when there's a fourth season
02/22/08 07:11 AM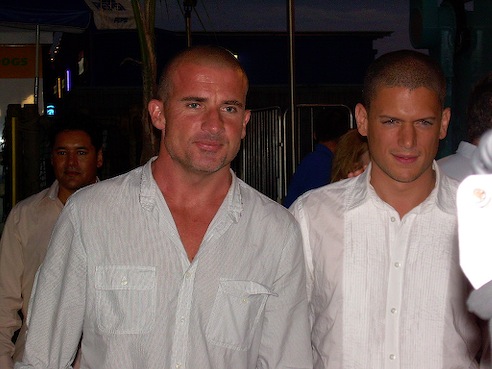 Prison Break stars Dominic Purcell and Wentworth Miller braved Santa Monica for a Fox press party last summer. Photo: Ed Bark
By ED BARK
A fourth season of Fox's
Prison Break
is by no means assured. But if it happens, odds are it won't be in North Texas, where the series' second and third seasons were filmed.
"Right now we are being told the plan is to take it to Los Angeles," Dallas Film Commission head Janis Burklund said in an email sent to Dallas-based Fox4 and unclebarky.com. "Nothing has been announced officially by the studio. Be assured the City of Dallas and the Dallas Film Commission have not given up. Mayor Tom Leppert has expressed his desire to assist in this effort and will be placing calls to the heads of the studios and network to ask if there is anything additional the City of Dallas can do to convince them to keep
Prison Break
shooting here."
The escapist drama has helped to pump multi-millions into the area economy, but has performed modestly in the Nielsen ratings this season. The show's Feb. 11th third season finale, which capped a strike-shortened order of 13 episodes, finished 33rd in the national rankings with 7.8 million viewers.
Fox so far has not announced whether
PB
will return next fall or from where it might originate. Its first season was filmed in the Chicago area before the network moved it South to warmer climes. But the blistering summer heat of North Texas proved to be no picnic either.
Burklund, who is seeking news coverage of the city's and Film Commission's efforts, said that "the discussion of relocating is due to creative reasons and the direction the show will take in the future, and not a negative reflection on their experience here in the Dallas-Fort Worth area."
The show's producers, she added, "have assured us they have had a very positive experience in Dallas and the region and have nothing but praise for the local crew, talent and the community. And we have every reason to believe there will be other projects to come in the future with this studio and the producer."
PB
's two principal stars, Wentworth Miller and Dominic Purcell, varied in their adaptations and approaches to Dallas.
Miller, who lived "not too far" from Southern Methodist University, said he enjoyed exploring his new surroundings.
"I try to go out to these little towns on weekends and see what there is to see," he told unclebarky.com at a Fox press party in Santa Monica last summer. "It occurred to me on my summer break in L.A. that I don't live in L.A. anymore. I actually live in Texas for 10 months out of 12. So the reality is that Dallas is my home for the time being."
Purcell, still an avid surfer, saw Dallas as something of an occupational hazard.
Asked if he was enjoying the city, he said, "No, of course not. I'm away from home. But that's part of the deal. I get to play, I love what I do and I get good money. I'm not gonna sit here and whine and bitch about bad my life is because I'm in Dallas. It's hard being away from my kids and the surf and water and stuff. But it is what it is."