Fox4's Next: a visually impaired show for a social media age
03/11/11 01:23 PM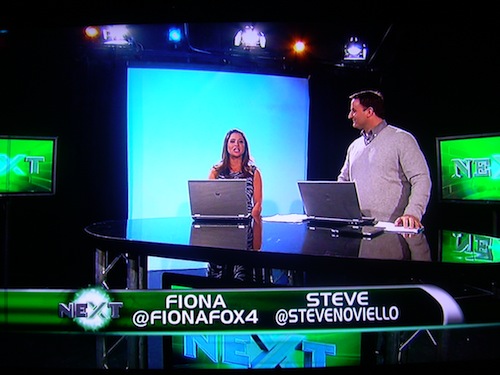 Behold the hardly palatial digs of Fox4's new Next. Photos: Ed Bark
By ED BARK
Fox4's
Next
snuck into view during lunchtime Friday, and the station seems to have spared
every
expense on this experimental half-hour.
Hosts Fiona Gorostiza and Steve Noviello presided over a set dominated by a big blue screen, a dingy black floor and Noviello himself. The station's resident consumer reporter for the most part took hold of the first-half hour like a hobo bogarting a joint. And if that's a dated reference, hey, there aren't many if any young "social media" addicts watching broadcast TV news at 12:30 p.m.
Next
ideally is supposed to be light and fun, but its first edition dawned in the immediate aftermath of the earthquake/tsunami that devastated Japan. This also turned out to be the most compelling segment of
Next
, with Fox4 reporter Adrian Arambulo narrating a series of jarring youtube clips before colleague Lynn Kawano explored the Facebook angle after noting that her brother in Hawaii is OK but without cell phone service at the moment.
These reports took up the first nine minutes of the program, and the producers deserve credit for seizing the moment rather than simply sticking to whatever plans had been laid the day before. Still,
Next
looked all together pretty low-rent on-screen. And the show started deteriorating when Noviello began babbling about Steve Jobs' latest must-have hand-held device after viewers were exposed to taped footage slugged, "Apple Fanatics Camp Out Overnight for Ipad2."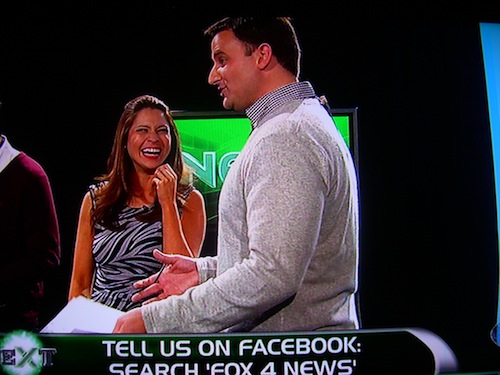 The reliably bubbly Gorostiza, who's both a roving reporter and substitute weathercaster for Fox4's
Good Day
, had little to do or say until gabby Noviello finished narrating the inevitable Charlie Sheen segment and then proclaimed him "Hollywood's most trending celebrity" in the social network realm.
Is he crazy or is he a genius, Noviello wondered aloud.
"Crazy genius," Gorostiza said.
The two of them then were shown eating junk food at Dallas' Maple and Motor restaurant, which -- imagine this -- updates its Facebook page "almost daily." Sure enough, it had a new post early Friday afternoon: "Great first show Steve and Fiona. We are watching you."
Late in the show, Gorostiza finally got a little somethin' somethin' -- a taped piece with Dallas Mavericks forward Shawn Marion, who has a
Twitter account
with over 62,000 followers as of this writing. Gorostiza said that Marion in turn should follow her. And so the deed was done -- right before our eyes!
Otherwise perhaps some eyes crossed while trying to focus on Gorostiza's zebra print dress. Noviello was a veritable Mr. Rogers in comparison, with a light tan v-neck sweater layered over a button-down collar checked shirt. The shirt was hanging out a bit, though, something Mr. Rogers never would do.
Fox4 management so far is undecided about the future of
Next
, with Friday's unveiling only a test run. Or as Noviello put it at show's end, "This new social media experiment that we're doing."
Your friendly cutting edge content provider, who has both a Facebook and Twitter account, will probably tweet something on the order of "This new social media experiment that they're doing at Fox4 has a set that looks like an old Internet dial-up connection."
:) LOL, peace out.