NBC5 weather team puts some clever spins on accuracy in notable departure from recent spots
08/21/17 11:22 AM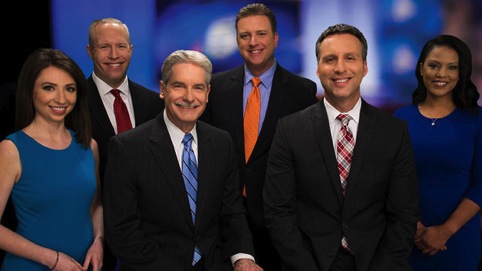 By ED BARK
@unclebarkycom on Twitter
Over the years, NBC5's news and weather promos have tended to be more than a little "countrified," including the past spring's big rig/CB radio
"Convoy" spot
for the station's meteorology team.
But the Fort Worth-based station's latest drumbeat might also be its most contemporary. Put together by an in-house creative team headed by Gary Wann, it re-invigorates the D-FW market's ever-combative weather wars with a deftly orchestrated newsroom spot featuring NBC5's entire team of temperature takers. They're variously caught in the acts of precision dart-throwing, ping-pong playing, basketball-spinning and paper wad shooting into a trash can. All six -- Rick Mitchell, David Finfrock, Samantha Davies, Grant Johnston, Brian James and newcomer Keisha Burns -- capably play their parts.
Comedic elements aside, the 30-second ad otherwise touts NBC5's "Most Accurate" designation by
WeatheRate
, which touts itself as "the only independent weather forecast verification company in the United States, perhaps even the world." After comparing a market's local TV weather forecasts with the resultant actual "observed conditions," Phoenix-based WeatheRate picks an overall winner -- in this case, NBC5. Results are based on data compiled over a full year, with new results released each June, according to a
FAQ section
on the WeatheRate website.
The firm also notes that it's "not affiliated with any TV stations or the companies that own them." But WeatheRate's president, meteorologist Bruce A. Fixman, says the company does contact individual winning stations and offers a licensing fee deal allowing them to use WeatheRate's logo and data in promotional spots. NBC5's spot mentions WeatheRate and uses its logo at the end. NBC5 vice president of news Mark Ginther confirms that the station did pay WeatherRate a fee for such use.
Early in its existence (the company was created in 2003), WeatheRate was accused of moving on to another station and soliciting a licensing deal if the designated "most accurate" station didn't want to sign up. But such charges haven't been made since 2009, and WeatheRate insists that "the second most accurate station is NOT offered the WeatheRate seal of approval. WeatheRate only certifies the station that is truly the most accurate in each city."
According to WeatherRate's website, its 2015 and 2016 winner for most accurate forecasts was CBS11. The company did not include D-FW in its surveys before that.
Anyway, now that you're armed with all of these further details, enjoy the below spot.
Email comments or questions to:
unclebarky@verizon.net