Local Nielsen ratings snapshot (Wed., July 27) -- Fox News Channel crashes to last on Night 3 of Dem convention
07/28/16 12:42 PM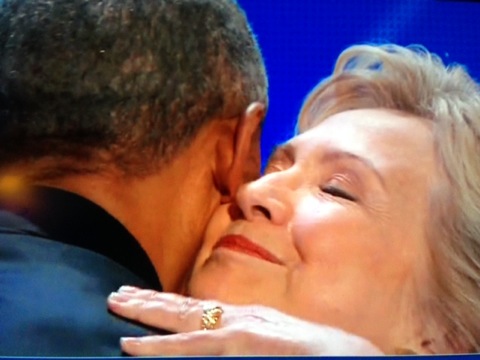 The Big Embrace climaxed Night 3 of Dem convention. Photo: Ed Bark
By ED BARK
@unclebarkycom on Twitter
Fox News Channel's descent from the penthouse to the outhouse escalated to a free fall Wednesday night when its coverage of the Democratic National Convention wound up last in the D-FW Nielsen ratings in both key measurements.
FNC led in total viewers for all four nights of last week's Republican convention and was tops among 25-to-54-year-olds (main advertiser target audience for news programming) on Nights 3 and 4. But the conservative-leaning network, which has been interviewing Republicans during a good part of the Democratic convention, hit the ratings basement Wednesday despite a technical glitch that short-circuited PBS affiliate KERA13's coverage in the early minutes of President Obama's featured speech. The station quickly recovered but the Nielsen numbers show that many viewers never returned after coverage was restored shortly after 10 p.m.
The Democrats again went well past prime-time, with Obama beginning his speech at 9:55 p.m. and ending it at 10:40 p.m. Then came an even bigger finish, with nominee Hillary Clinton taking the stage and embracing the president after he had said, among other things, that no man or woman has ever been more qualified for the job.
ABC, CBS and NBC as usual began their coverage at 9 p.m. -- and signed off by 10:45 p.m. -- while the three cable news networks and PBS again offered a full night of coverage.
Here are the D-FW numbers from 9 to 10:45 p.m. in both total viewers and 25-to-54-year-olds.
Total Viewers
NBC -- 120,401
CNN/MSNBC -- 106,236 apiece
CBS/PBS -- 56,659 apiece
ABC -- 49,577
Fox News Channel -- 28,330
25-to-54-Year-Olds
CNN -- 56,550
NBC -- 38,692
MSNBC -- 32,739
ABC -- 23,810
CBS/PBS -- 17,858 apiece
Fox News Channel -- 8,929
KERA13, the PBS station, had been rolling along pretty well in total viewers, peaking at 84,989 between 9:45 and 10 p.m. But then came the technical issue, plunging PBS' audience to 28,330 total viewers between 10 and 10:15 p.m. The station recovered somewhat, but the damage had been done. From 1:15 to 10:45 p.m., KERA13 averaged 49,577 viewers.
On all seven networks, Night 3 of the Democratic convention had 524,093 total viewers and 196,436 in the 25-to-54 age range. For the first time, that put it below the Republican convention in total viewers, with Night 3 drawing 559,510. The Dems still had more 25-to-54-year-olds than the GOP (184,531 on their Night 3).
On Fox Sports Southwest, the first-place Texas Rangers continued to struggle, blowing a late-inning lead to the Oakland A's and losing 6-4. The game averaged 162,895 total viewers.
Wednesday's biggest single network draw again was NBC's
America's Got Talent
, which had 233,719 total viewers in the 7 p.m. hour.
Here are Wednesday's local news derby results, with the 10 p.m. editions again omitted because of convention run-overs.
It was the same story as the previous two convention days. Fox4 swept the 6 a.m. competitions and NBC5 ruled at 5 and 6 p.m. in both ratings measurements.
Email comments or questions to;
unclebarky@verizon.net