WFAA8 hires Kansas City's Marcus Moore after losing Chris Hawes (updated)
12/12/11 03:37 PM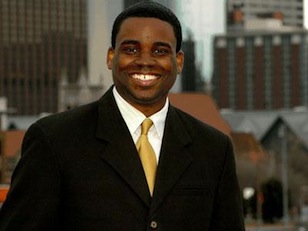 By ED BARK
WFAA8 has hired Kansas City reporter Marcus Moore after losing Chris Hawes, who
left the station
this month to take a public relations position with Medical City Dallas Hospital.
Moore's decision to depart ABC affiliate KMBC-TV for Dallas was first reported by the industry news site
Bottom Line Communications
. His last day reportedly will be on Dec. 26th after a six-year stint with KMBC.
WFAA8 president and general manager Mike Devlin and news director Michael Valentine have not returned emails asking for confirmation of Moore's hiring, which later was picked up by the TV Spy and mediabistro websites. But Moore, in an email reply to unclebarky.com, said that his first day at WFAA8 will be on Jan. 4th.
WFAA8 also had another vacancy, created in mid-July when
Gary Reaves opted to retire
from TV news.
Moore's bio remains on
KMBC's "News Team"
page, where he's quoted as saying, "News is in my blood. I believe the Lord has called me to the profession and I simply want to fulfill His will for my life."
In the Bottom LIne Communications account, Moore described Kansas City as "awesome, except during the winter. Finally, I won't have to worry about getting snow tires anymore."
Moore began his TV news career at KBTX-TV in Bryan/College Station, Texas and also has worked at WAPT-TV in Jackson, Mississippi and KOMU-TV in Columbia, MIssouri.
"I can do all things through Christ who strengthens me," he says at the close of his KMBC bio, quoting Philippians 4:13.